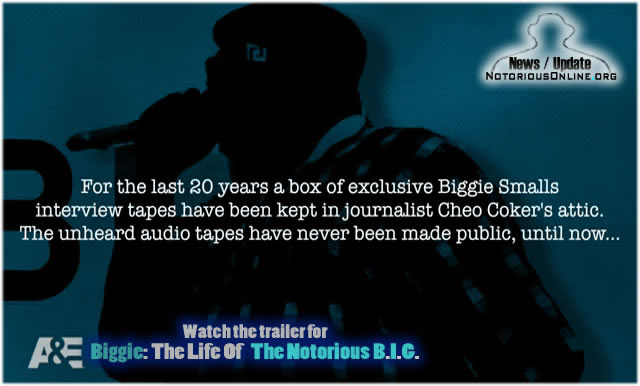 The Notorious B.I.G.'s life has been examined in various forms since his tragic passing in 1997, and a new documentary from A&E's Biography series will focus on the late Brooklyn legend once more. This September, Biggie: The Life of Notorious B.I.G. will make its debut on the cable network.
From the press release:
A&E Network will premiere the definitive documentary "Biggie: The Life of Notorious B.I.G." as the inaugural project airing under the recently relaunched 'Biography' banner. The three-hour, deeply personal biography will allow the late Christopher Wallace to narrate his own incredible life story by employing exclusive archival footage and audio recordings that have never been heard before as well as new interviews by those who loved him most. In addition, A&E will also premiere the six-part limited series "Who Killed Tupac?" which will follow famed civil rights attorney Benjamin Crump as he conducts, for the first time ever, a no-stone-unturned investigation twenty years after the death of the dynamic and influential rapper and actor. "Biggie: The Life of Notorious B.I.G." will air all three hours on Monday, September 4 at 8PM ET/PT on A&E. "Who Killed Tupac?" which will air as six, weekly installments moves to Q4 2017.

"The late Christopher Wallace and Tupac Shakur continue to impact the world two decades after their tragic, unsolved murders and there is still a public longing to connect with these figures and to celebrate their legacies," said Elaine Frontain Bryant, Executive Vice President and Head of Programming, A&E Network. "We pride ourselves in delivering projects under the 'Biography' banner that unearth a side of the story that the public has never seen before. In the case of "Biggie: The Life of Notorious B.I.G.," the foundation of this biography is exclusive archival footage and audio recordings of Biggie himself, packaged in a way that allows him to tell his own life story as if its present day and we are truly excited to be able to bring that kind of intimacy and connection to his fans."
Directed by Mark Ford, Biggie's mother, Voletta Wallace, Junior M.A.F.I.A. cohort Lil Cease, Diddy, Jay-Z, Nas, 2 Chainz, Mike Will Made-It and others will also appear in the feature. The release notes that this is the first biography on Biggie Smalls authorized by the estate.
The trailer for the documentary can be viewed below:
Source:
HipHopWired.com