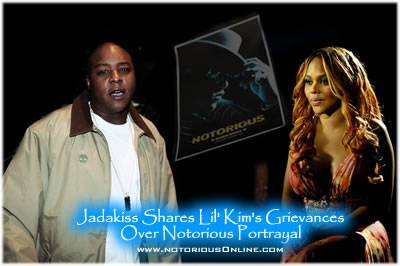 Rapper
Jadakiss
sympathises with
Lil' Kim
over her portrayal in the recent
Notorious B.I.G.
biopic, insisting filmmakers got her character "
a little wr
ong". The "
Knock Yourself Out
" singer, real name
Jason Phillips
, was a good friend of the late hip-hop icon and spent time with Kim when they were budding rappers looking to break into the music industry. But he, like Kim, was left disappointed with the way
Biggie's
mistress and protegee was shown in the Notorious film - because it failed to adequately detail her transition from being a sweet and sexy star to her eventual reputation as the "
Queen Bitch
".
And Jadakiss admits he also found fault with the portrayal of Biggie's rap rival Tupac Shakur. He tells
WENN
, "
I think it (the movie) was about 70 per cent accurate. I agree with Kim, I think they did her character a little hard, you know what I mean? They just showed her going straight to the Queen Bitch instead of portraying her from Lil' Kim, the little lady she was before she turned into Queen Bee, so I'm with Kim on that, they did her a little wrong. I also didn't like Pac's character. They did him a little happy, a little chipper, but, if you knew Pac - I didn't know him personally - but just through his music, you knew he was different.
"
Kim recently revealed she is working on her own biopic, in which she will set the record straight about the depth of her relationship with Biggie - and Jadakiss would jump at the chance to be a part of the project. He adds, "
Definitely, I got a lot of love for Kim. She's been through a lot and she still remains a good, strong female artist, entrepreneur in the game.
"
Discuss this article


in the B.I.G. Forum
Source:
starpulse.com