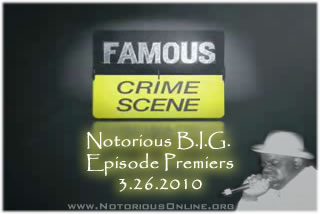 Late, great iconic rapper the
Notorious B.I.G.
, will be at the center of an upcoming episode of VH1's new documentary series, "
Famous Crime Scenes.
" The series investigates some of pop culture and music's most shocking celebrity deaths.
Christopher Wallace was gunned down in the peak of his fame. Biggie was gunned down while promoting his album
Life After Death
('Til Death Do Us Part) in Los Angeles on
March 9th
.
Christophers death has been investigated for well over a decade, yet very little hard evidence has ever been revealed, and no charges have been made in his murder. According to a press release from VH1, the network has rounded up the witnesses and investigators who were there during the investigations of the legends death to give viewers the intimate details -- from the initial 911 call to the investigators' final determination to help piece together what really happened.
It will feature expert interviews and true-to-life reenactments, as well as advanced computer graphics, to help paint a picture of the tragic deaths. In addition to
B.I.G.
, five other episodes of "
Famous Crime Scenes
" will air featuring the untimely deaths of
John Lennon
,
Anna Nicole Smith
,
Selena
,
Marvin Gaye
and king of pop,
Michael Jackson
.
The Notorious B.I.G.
episode is a half-hour long, and is set to premiere on Friday,
March 26th
at
9 p.m.
Discuss this article in the Forum!