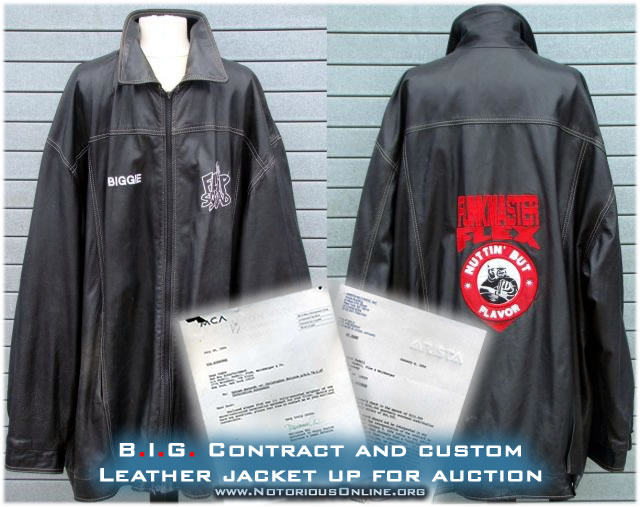 A painting done collectively by all four
Beatles
when the band was on tour in Japan in 1966, plus original artwork by rock legend Frank Zappa and contracts and a black leather jacket from the late rapper
Biggie Smalls
(aka "
The Notorious B.I.G.
") will headline a three-day auction extravaganza scheduled for Sept. 13-15 by
Philip Weiss Auctions
.
The Biggie Smalls items include his contract termination from
Uptown Records
, signed by
Andre Harrell
and
Christopher Wallace
(Biggie's real name) and an escrow agreement signed by
Sean Combs
(aka "P. Diddy"). Offered separately, also on Friday, will be the original black leather jacket owned by "
The Notorious B.I.G.,
" . Also sold will be an archive of letters relating to the conception of rap label Bad Boy Entertainment.
The auction will be held in Philip Weiss Auctions' spacious gallery, located at #1 Neil Court in Oceanside, N.Y. The music memorabilia will be part of the event's sandwich day – Friday, Sept. 14, starting at 2 p.m. (EST). The day will also feature ocean liner and transportation collectibles, and Hollywood memorabilia, to include magazine cover art from the '20s and '30s.
Internet bidding will be provided by Proxibid.com and Auctionzip.com, and phone and absentee bids will also be accepted. Philip Weiss Auctions is always accepting quality consignments for future sales. To consign a single item, an estate or a collection, you may call them at (516) 594-0731; or, you can send an e-mail to Philip Weiss at
Phil@WeissAuctions.com
. For more information about Philip Weiss Auctions and the Sept. 13-15 multi-estate auction, please log on to
www.weissauctions.com
.
More Screen Shots:
Source:
WeissAuctions.com