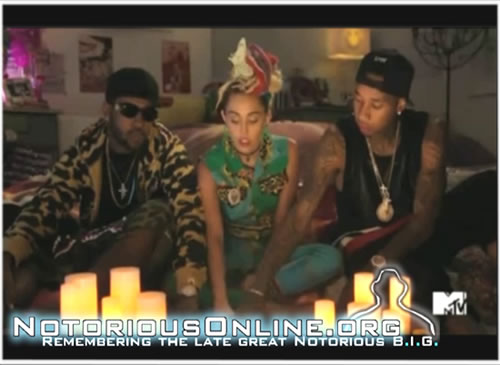 Just days after Houston Deputy Darren H. Goforth was murdered execution-style by cop hater Shannon J. Miles – when other networks were scuttling shows with themes that were even remotely similar to the tragedy – MTV went forward with a pre-recorded sketch where
Miley Cyrus
and a few rapper friends are using a Ouija board. They ask the spirit of late great rapper
Christopher Wallace
– a.k.a.
Notorious B.I.G.
– "
Biggie, Who killed you?
" The response from the board spells out "
L.A.P.D.
" The video cuts out as the planchette marker points to the "
D
" and, as part of the sketch, it appears the feed had been cut as the screen reads "technical difficulties."
Biggie
was shot in 1997 as he left a Soul Train Music Awards after-party. His killer was never apprehended.
Check out the video below:
Source: hngn.com