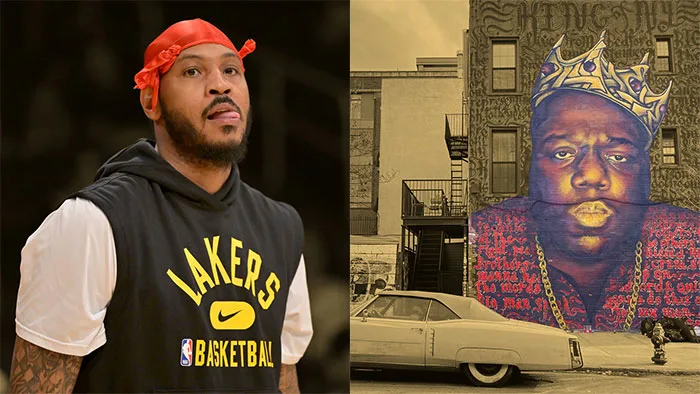 Carmelo Anthony crawled his way out of the rough Baltimore streets. He knows that not everyone was as fortunate as him. Like several NBA players, Carmelo Anthony grew up surrounded by poverty and the struggles that come along with it. Basketball became his "oasis." But for him to take it to the next level, Melo looked to a particular
Notorious B.I.G.
lyric.
"Biggie said it best: 'You sling crack rock or you got it with the jump shot.' Sports can't save you, at the end of the day. You have to pursue it. I never dreamed of playing in the NBA. That wasn't my goal. Think about all the people who are back in the hood or the projects that're super nice at basketball, and after a certain period after high school or college, they're back in that environment," Anthony said, per GQ.
NBA analysts call the likes of Anthony a generational talent. But if you ask the Baltimore native himself, it was a choice he made to put in the work. It was his choice to pursue basketball as a means to live a better life.
Anthony spent a third of his high school playing career in Baltimore before taking his talents to Oak Hil Academy in Virginia. This was where he started catching the attention of NBA scouts, especially in the Adidas Big Time Tournament where he averaged 25.2 points per game. This was also the time when Melo was engaged in several duels with another top high school prospect named LeBron James.
It has saved some, but it can't save everyone
Melo is well-aware that he's one of the lucky ones whose soul was saved by basketball. But he doesn't let this fact get in his head. He knows that as we speak, there are those still trying to claw their way out of the hood.
"Think about the statistics. There's no hope in that! When you look at those numbers, you think you can never be one out of several hundred or thousands to make it when it's so many people in the world. Sports can't always save you. It can, though. And for as many people as it saved, I guarantee you it's ten times that number that sports couldn't save," Anthony said.
Anthony is saying you shouldn't put all your chips in for the sport you love. The future Hall of Famer knows how rocky the road is to the NBA. Though he made it look easy, Anthony doesn't want to take things for granted. Putting in the work is a choice. Luck also plays a vital part in how our lives turn out. But, always have a backup.
Source:
BasketBallNnetwork.net