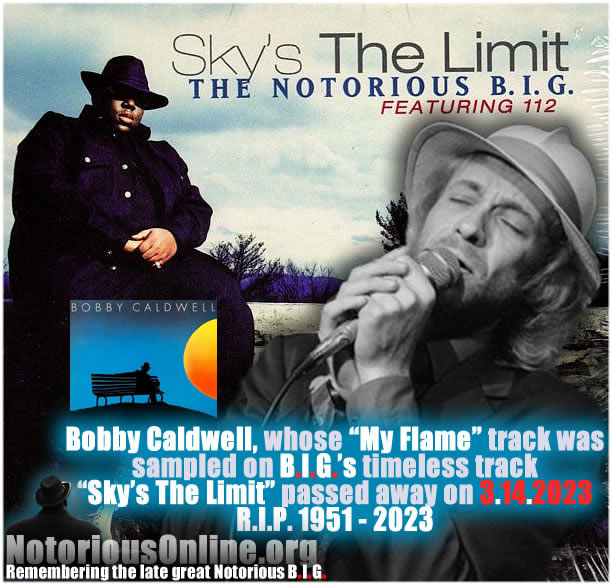 Bobby Caldwell
, whose
"My Flame"
track was sampled on Notorious B.I.G.'s timeless track
"Sky's The Limit"
, off the classic
Life After Death...Til Death do Us
Part album, passed away on
March 14th, 2023
, just 5 days after the 26th anniversary of the passing of the late great Notorious B.I.G. which was on March 9th, 2023.
The Notorious B.I.G., found himself spitting over a sample of Caldwell's "My Flame" on the Clark Kent-produced single "Sky's The Limit" from 1997's Life After Death. During a Q&A with BET, the DJ discussed Big's love of the record even before he officially claimed it as his own. "When he heard 'Sky's The Limit,' I was like, well this track is for Akinyele so you can't have it. He's like, 'Nah,' I need that. I said, 'Not for Junior M.A.F.I.A.!' He's like, 'Nah, that's for my album.'
Believe it or not, the smooth groove was passed on by both Jay-Z and LL Cool J before Biggie made it the inspirational anthem it is today. "Every time we spoke about the song it was him singing the hook, and then we got 112 on it, but he was singing the hook the day he heard it."
Hip-hop's sampling of Caldwell wasn't just confined to that one track either. Notorious B.I.G. ran with "My Flame," also off What You Won't Do for Love, with the MC's 1997 single "Sky's the Limit." In the next decade, Dilla further immortalized Caldwell in the hip-hop canon with his production of Common's "The Light," which heavily samples the aforementioned "Open Your Eyes."
Caldwell says he has spoken to peers like Al Jarreau, Maurice White from Earth, Wind & Fire, and George Duke, who helped him realize the significance of his music among Black listeners. "I guess people like Notorious B.I.G. and Tupac, my confusion was, these guys were pretty young [when my first album was released]. How did they come upon my stuff? I had to conclude it was their parents."
Bobby Caldwell passed away on March 14, 2023, after a long struggle with mitochondrial damage and oxidative stress due to an adverse effect from a fluoroquinolone antibiotic.
Listen to "My Flame", the track that inspired one of B.I.G.'s most timeless emotional tracks:
Source:
Vibe.com & Waxpoetics.com