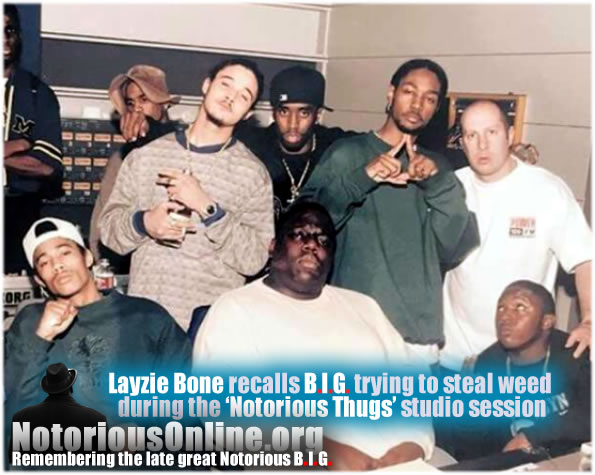 Layzie Bone of Bone Thugs-N-Harmony
has recalled the time the late great
Notorious B.I.G.
once tried to steal weed from him during a studio session for
"Notorious Thugs."
During his interview with Breakbeat Media earlier this week, the Bone Thugs member recalled the time Biggie apparently tried to get sneaky with some weed he brought to the recording session. According to Layzie, everyone from Bad Boy Records was in the house that night, and he had over two ounces of weed to share with everyone. However, Biggie is said to have thought the special gift was for him only, and he wasted no time helping himself.
"We first got to the studio, it was Lil Cease, Stevie J, Puffy was in there man the whole Bad Boy camp; so I come in, I had two ounces of weed," Layzie said. "So the n-gga, Biggie Smalls, put my weed in his pocket, man. I'm like 'Ay n-gga.' [He had it] in both of them. He talking bout he thought I was giving it to him, and I'm like, 'Nah, n-gga, that's for the party, man."
The hilarious story falls right in line with the mantra KRS-One shared on the Boogie Down Productions 1987 classic "The Bridge Is Over" that "Brooklyn keeps on taking it." The rest of that night went well as Biggie and Bone Thugs created "Notorious Thugs" off the late rapper's 1997 album Life After Death.
The song itself has an interesting backstory. In March 2022, Fat Joe shared a throwback photo of himself with Bone Thugs, Diddy, Lil Kim and the Brooklyn rap icon on the 25th anniversary of his death. In the caption, Joey Crack revealed he orchestrated the Biggie single "Notorious Thugs" featuring Bone Thugs.
"Fun fact I got a call from BIG and he said Joe I need your boys BONE on a song," he wrote. "I said say no more BONE N BIGGIE BONE N BIGGIE. I love you BIG we will never forget you 25 years later we will never forget THE KING OF NY."
Shortly after Fat Joe posted the photo, Layzie Bone rolled through with a post of his own and verified the story with, "I appreciate you Joey Crack." Layzie also spoke on the creation of the track in an interview with HipHopDX in 2020. During that talk, the rapper explained how he and his crew rolled up to the studio in limos and even recalled Big stealing his weed.
"We came from St. Clair in a limousine going to see Biggie Smalls and Puffy in the studio," he told HipHopDX. "Everybody was there — I'm talkin' Stevie J, because Stevie J did the beat, everybody from Bad Boy — except for Lil Kim, I ain't see her that day — everybody from our camp, Ruthless Records, because we was in the house. So you got to imagine B.G. Knocc Out, all our security and Bone Thug-n-Harmony. We was having a ball up in that piece, right?"
Layzie continued: "So the song was being made. It only took about five hours, too. We did our part. I was asleep in the limo. They woke me up. I did my shit just out of my sleep. Everybody thought they'd freestyle and all this type shit. Well, let me see you freestyle more than 16, 20 bars at a time.
"Anyway, Big was like, 'I'm going to take this home, man' and he stole my weed! He put my weed in his pocket. I'm like, 'That's a whole ounce, Big.' He said, 'Y'all got some good ass weed, yo.' I'm like, 'Man, give my muthafuckin' weed back, Big.' He's like, 'This yours?' So, he gave me my weed back. We broke it in half, actually, and then this n-gga went home, took this song and died before he got to hear his verse."
Watch the Lazie bone story below
Source:
HipHopDX.com
&
Breakbeat Media