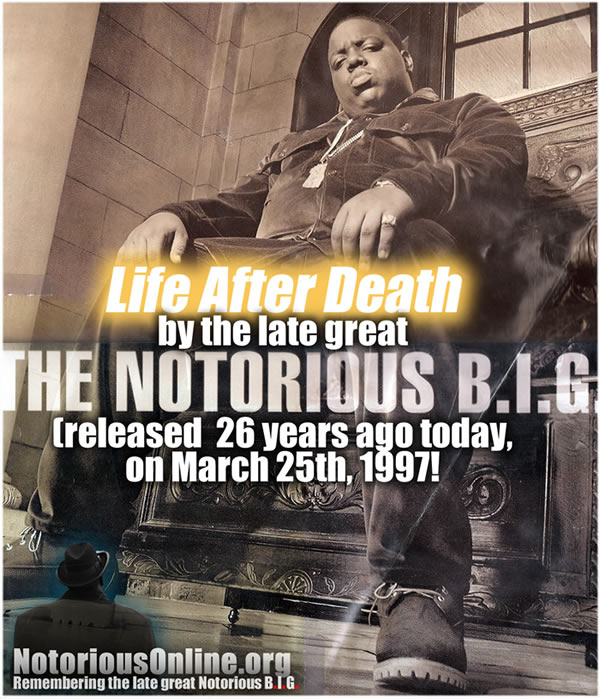 On the 26th anniversary of the late great
Notorious B.I.G.
's (government name, Christopher Wallace) death a couple weeks ago, there was fittingly an outpour of love, reverence and nostalgia of the release of his classic double Cd "
Life After Death
". Throughout the Bedford-Stuyvesant streets where Biggie grew up, candle-lit vigils flickered, freshly painted murals glistened on walls, Coogi sweaters were popping again, and his music wafted through the air as if a part of earth's atmospheric makeup on his Fulton St. block. Pieces about the significance of his life, death, music and legacy popped up all over the interwebs from the same publications that covered him two decades ago and many more. Through gestures big and small, fans celebrated his legacy in any way they saw fit, even with something as simple as a T-shirt, and everything felt right, mostly.
B.I.G. and the bevy of legendary producers feeding him beats to devour created radio ready hits, tales of grimy street mythos, anthems of ascendant black affluence (ashy to classy if you will), and suave earworms for the ladies to groove to—all equally enthralling in their variance. With a tongue as skilled as his, Biggie could have stayed above the listener's head for the entire album, wrapping similes, metaphors and multi-syllable rhymes around each other. Instead he sprinkled them throughout, slapping with reminders of the rhyme skills if you thought the hooks and glossy samples were too soft. The balance and symmetry of each disc is nothing short of marvelous.
The Notorious B.I.G.'s 1997 album, Life After Death, became the first hardcore hip-hop album to be given a Diamond Award by the Recording Industry Association of America. The Diamond Award honors albums with shipments of more than 10 million units to stores. Life After Death, the two-CD album featuring "Mo' Money, Mo' Problems" and "Hypnotize," was released just weeks after the Notorious B.I.G. was killed as he left a party in Los Angeles on March 9, 1997. It earned the award just 2 years and 10 months from it's release. The RIAA counts each CD as a unit, so a two-CD album counts as two units.
Biggie's influence is still all over rap today, and both back to back classics [b]Ready To Die[b] and
Life After Death
are rap constitutional documents to learn and establish a blueprint from.
Check out vintage news footage of the day Life After Death" was released on March 25th, 1997 below!: