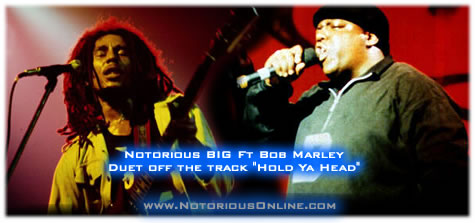 The artist, a.k.a. Biggie Smalls, who died in a March 1997 shooting, "duets" with fellow deceased music legend Bob Marley on a new single, "Hold Ya Hand," which was released Monday via AOL Music. It will also appear on "The Notorious B.I.G. Duets: The Final Chapter," due November 29 via Bad Boy.
*"Hold Ya Hand" includes a sample of Marley's "Johnny Was." The rest of the album is still coming together, although Bad Boy promises participation from "some of music's greatest vocalists and MCs" and "the industry's top producers." The project will also include a DVD with previously unreleased Biggie performance footage, interviews and music videos.


Biggie remains the subject of fascination. Director Antoine Fuqua is planning a big-budget biopic about the rapper, which is expected to begin production early next year. Last year, Bad Boy released an expanded, 10th anniversary edition of Biggie's debut, "Ready To Die," which featured the evergreen singles "Juicy," "One More Chance" and "Big Poppa."
*AUDIO of this track is located in the "Audio / Singles" section of the site
Source: ABCNews.com