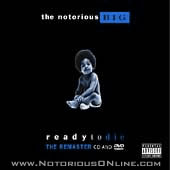 A US judge has stopped sales of a 1994 album (
Ready To Die
) by
Notorious BIG
after a jury said it used part of a tune by funk band Ohio Players without permission. The two music companies that own rights to Ohio Players recordings were awarded $4.2m in damages. The jury said Bad Boy Entertainment illegally used a part of the 1992 song "
Singing in the Morning
". The ban affects the late rapper's album Ready to Die and the title song in any form, including downloads and radio.

'Verdict without merit'
The defendants, Bad Boy Entertainment, Bad Boy LLC, Justin Combs Publishing and Universal Records, plan to appeal. The album was executive produced by Sean "Diddy Combs". "
We think (the verdict) is without merit
," said their lawyer Jay Bowen outside the Nashville court.
Bridgeport Music and Westbound Records, which owned the rights to Singing in the Morning, have filed hundreds of legal cases over "sampling" of their songs, although most were settled out of court.
Armen Boladian, owner of Westbound and Bridgeport, said: "
We've just been battling this for such a long time. So many have been settled because companies didn't want anything to do with it, and we knew we were right.
"
Influential artist
The companies get most of their income from song royalties by their artists, which include funk legend George Clinton, the Funkadelics and the Ohio Players.
The estate of Notorious BIG was originally sued but was dropped later as a defendant. The New York rapper, born Christopher Wallace but also known as Biggie Smalls, was 24 in 1997 when he was killed in an unsolved shooting in LA.
A new team of police is now investigating the killing. He was one of the most influential hip-hop artists of the 1990s. Ready To Die and the posthumously released album Life After Death together sold nearly 8 million copies in the US, according to Nielsen SoundScan.
Source: BBC.co.uk