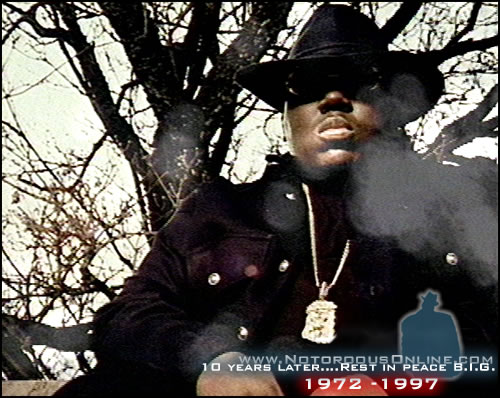 I want to to just inform you all to check out the site today for rare footage recorded 10 years ago at the following you tube B.I.G. link:
http://www.youtube.com/profile_video...otoriousOnline
There are lots of new videos clips including rare interview from
Notorious B.I.G.
NEVER seen in 10 years which was added today to the account in memory of Christopher Wallace. It's been over 10 years since Christopher Wallace A.K.A.
The Notorious B.I.G.
was laid to rest. If you think about, time has really passed by so quickly.
Please take today to do something positive for someone in memory of Notorious B.I.G. So crank up your system put in your favorite B.I.G.'s tracks and lets remember what BiG left us with. Check out the following links as well if you need your B.I.G. fix:
BBC B.I.G. tribute:
http://www.bbc.co.uk/1xtra/tx/docume...s/biggie.shtml
AOL'S Notorious B.I.G.'s Tribute:
http://music.aol.com/feature/notorio...00050000000037
Mtv Notorious B.I.G. Tribute:
http://www.mtv.com/bands/n/notorious...eature_070305/
Blender magazine Rare B.I.G. concert :
http://www.blender.com/video/979/Not...eo?pn=1&vsid=7
Bet.com B.I.G tribute:
http://www.bet.com/Music/Biggie+On+BET.htm?wbc_purpose=Basic&WBCMODE=PresentationU
npublished&Referrer=%7BDEEA9871-B755-47BD-B094-D989DD32B4FF%7D
There will be on going updates as the day goes by. More to come....Peace.
Webmaster
http://www.NotoriousOnline.com
Remembering the late Great Notorious B.I.G.