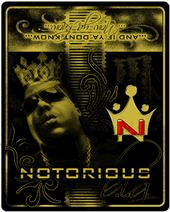 Voletta Wallace
, mother of
Christopher "Notorious B.I.G." Wallace
, is expanding the slain rapper's Brooklyn Mint clothing line with the launch of
Notorious B.I.G.
, a full collection of mens, young mens and boys apparel. The launch of the line commemorates the 10-year anniversary of B.I.G.'s death and according to Ms. Wallace, the clothing is inspired by the "
culture, lifestyle and diversity of Brooklyn.
" Ms. Wallace will debut spring and fall collection at the MAGIC Marketplace convention in Las Vegas, NV.
"
We are excited to launch the collection at MAGIC. The spring collection has been well received by the stylists, trendsetters, and celebrities that have had the opportunity to see the line
," said Rick Edwards, Director of Marketing for the new line. "
There have been many positive comments about the bold, vivid color schemes and innovative graphics.
"
www.NotoriousBIGclothing.com