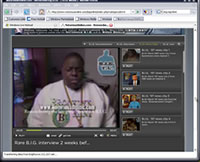 Unfortunately, about a fews month ago the site was being backed up and for some reason the data base which contains the news updates and of course forum posts were wiped out. The only solution was to reinstall the forum and site again but we located a 2006 backup of February for now.
If you created an account after
February 2006
, you would have to re-register for an account in order to participate on the site. The only thing that was lost was forum activity from
February 2006 to July 2007
, site updates which include news updates as well.
A new B.I.G. media player has been added which contains video clips of the B.I.G. almost dating 12 years back, documentaries, news clips, tributes, interviews and more:
The B.I.G. community forum is also back online:
We are currently adding updates to the site, peace.
Webmaster,