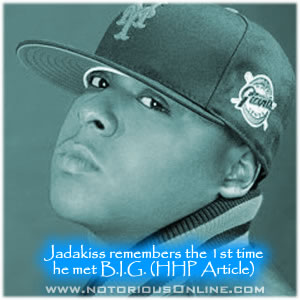 Can you remember the first time you met The Notorious BIG?
"It was at Daddy's House studios, I'd imagine. We did a song called 'You'll See'. It was crazy 'cos we [The Lox] was like, 'Damn, we always wanted to meet him! What's going to happen when we get a chance to meet Big?' That gave us the motivation, like nothing can stop us now."
Did Biggie give you any advice about the music game?
"He just told us to go hard, get your money, keep your bars tight, don't really pay attention to the nonsense that's going on; Puff's going to do this and that, he gon' do some stuff you don't like but he also gon' make you a star. And his words was true."
Was it emotional for you to write 'We'll Always Love You Big Poppa', the track you recorded after Biggie passed away?

"Nah, I mean, of course it was, but I didn't sit here crying making it - it was just a letter to BIG. It was a letter to my homie that passed away that I was just telling him the state of the game and wanted to tell him how I felt about hip-hop right now. It made people cry, the finished product, but I can't explain that."
Source:
hhcdigital.net