| | |
| --- | --- |
| | Rap mogul SEAN "Diddy" COMBS regrets stalling a promotional trip to London which he feels would have saved the late great Notorious B.I.G.'s life. Puffy told Playboy magazine that Biggie would still be alive if he hadn't agreed to postpone that trip to London so the two of them could party in Los Angeles. |
The heavyweight champion of rap at the time was fatally gunned down in a drive-by shooting in 1997 after a party as part of a two-day celebration to mark the completion of a recording session. Now, almost thirteen years later, Diddy reveals that Biggie Smalls A.K.A. Biggie, shouldn't have even been in America on the night he died. He says, "Big was supposed to go to London, but he called me that morning and said he needed two days with me to celebrate finishing his album, because we never hung out in clubs.
He said he wasn't going to London, and he was coming to my house to get me to go to the Vibe (magazine) party. In retrospect, I should have flipped out as I normally do and made sure he got on that plane to London.
"
Download
a scan of the interview by clicking on the
"Read More
" link.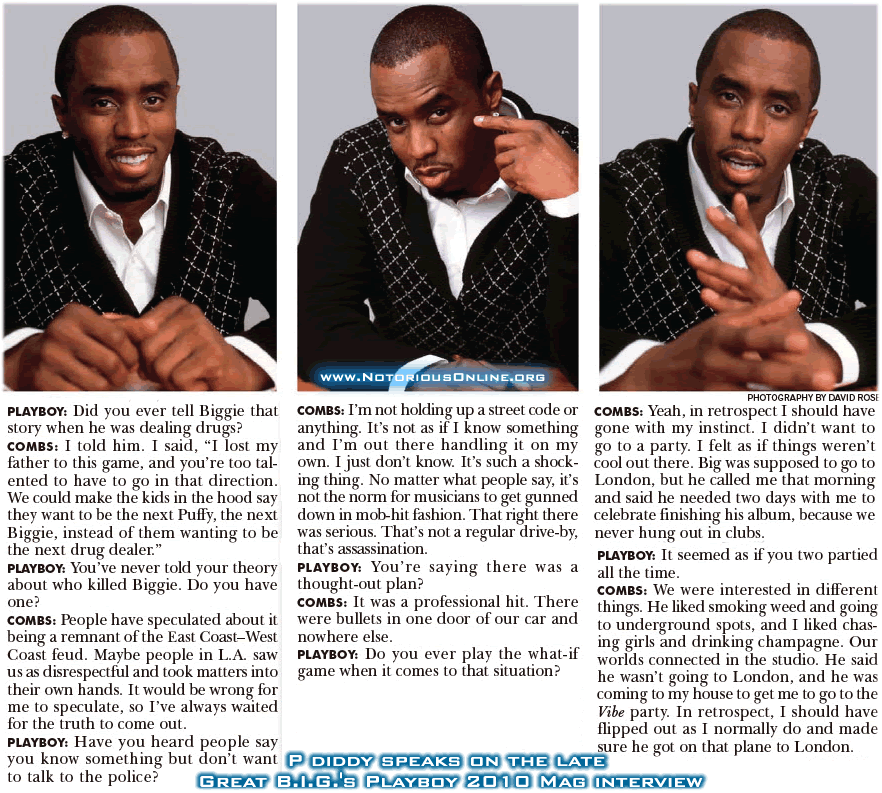 Discuss this article in the Forum!