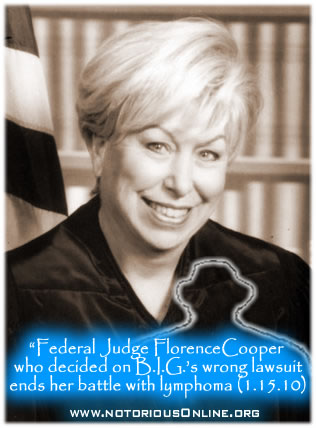 LOS ANGELES -- U.S. District Court Judge Florence Marie Cooper, whose reputation for brilliance and fairness made her a star of the federal judiciary, died Friday of lymphoma. She was 69. Cooper, who rose from a legal secretary to judgeship in state and federal courts, died at a Santa Monica hospital where she was being treated, Chief Judge Audrey B. Collins announced.
"
Our court is devastated by this loss
," Collins said. "
Florence personified the best qualities one could hope for in a federal judge - intelligence, analytical reasoning and endless patience combined with fairness, the unwavering ability to recognize and correct injustice to the individual, and a passion for justice.
"
As a federal judge, Cooper made headlines dismissing a case against accused Chinese spy Katrina Leung on grounds of governmental misconduct.
She also presided over a two-decade copyright battle involving the cartoon character Winnie the Pooh as well as a wrongful death suit brought against the city of Los Angeles by the family of the late great rapper
Christopher "Notorious B.I.G." Wallace
. Cooper declared a mistrial in that case when she learned the city had failed to turn over documents, and ordered Los Angeles to pay more than $1 million in attorney fees.
In 1999,
President Bill Clinton
appointed her to a lifetime position on the federal bench. She had planned to retire in March to care for her husband, who is ill.
Cooper is survived by her husband, Les Pickens, daughters Karen Albert and Angela Sample, and son Joe Andrus, all of Los Angeles; her sister Maureen Kelly Schulze of Santa Rosa and grandchildren. Services were pending.
NotoriousOnline.org would like to send our condolences to Judge Florence coopers family, freinds and associates.
Source:
http://www.latimes.com