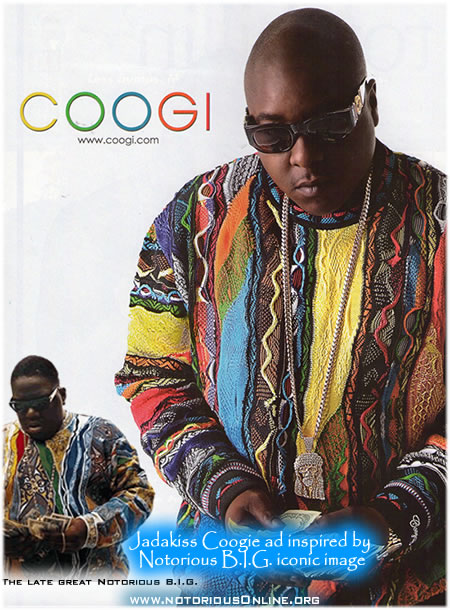 Here's the end result of Jadakiss' Coogi photo shoot. The ad was inspired by Dana Linxenberg's iconic photograph. "And if you don't know, now you know" B.I.G.- Juicy
Jadakiss does his best Biggie impression in a his new ad for clothing brand Coogi — manufactured by the makers of FUBU. Can Jada revive this once high-end, sought after brand? Since his days of coming up in the game, depending on how someone looks at it, he still might be on that come up, Jadakiss stated and still holds that the late great Notorious B.I.G. (R.I.P.) is one of his biggest inspirations in the music game and will forever be his top lyricist.
Clearly, there's no denying his admiration for his fallen teacher with his recent photo shoot for Coogi, which, coincidentally, seemed to be Biggie's brand of choice back in the day. The Inspiration Commemorating his fallen friend better than no other, "Letter To B.I.G." sounds off in the background, Without an album and a pending L.O.X. project, for whatever reason, Kiss has to make that money elsewhere in the meantime.
Check this Behind-the-Scenes video from a recent Coogi photo shoot with D-Block/Def Jam artist Jadakiss in Manhattan. You can click on the view more link to view this video clip upload for all the B.I.G. fans to check out! Biggie (R.I.P.) would be proud.