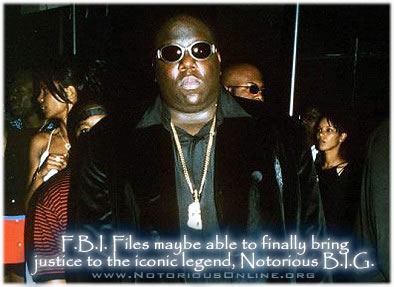 Los Angeles (CNN) -- The 1997 murder of
Christopher Wallace
, the rapper also known as
The Notorious B.I.G.
and
Biggie Smalls
, remains an unsolved crime despite Los Angeles police and
FBI
investigations that lasted for years. The FBI, which joined the case five years after the shooting, opened up its files this week by publishing hundreds of pages of investigation reports and notes from its probe on the agencies website.
Readers get a behind-the-scenes look at the FBI and LAPD's work, but the documents are heavily redacted, hiding the names of sources, investigators and suspects. The drive-by shooting, in front of dozens of witnesses who were leaving a music industry party in Los Angeles on March 9, 1997, spurred several conspiracy theories, but no arrests.
Smalls, 24, was killed six months after his former friend and rap rival Tupac Shakur was gunned down on a Las Vegas street, causing suspicion that both shootings were part of an "East Coast versus West Coast" hip hop war. Shakur recorded for Marion "Suge" Knight's Los Angeles-based Death Row Records, while Smalls was signed with New York-based Bad Boy Entertainment, founded by Sean "Puffy" Combs.
The FBI opened its case in December 2002 because of "multiple source information" that Smalls was killed "in retaliation for the murder of Tupac Shakur" and that a rogue LAPD officer was involved, an FBI report said. The FBI's case was closed in January 2005 when the U.S. Attorney in Los Angeles decided there was enough evidence for indictments in the case, according to one letter in the files.
The files include a Los Angeles Times newspaper story that suggested the FBI was pressured by the city of Los Angeles to drop its probe after the lead FBI investigator was named as a witness in a $400 million lawsuit Smalls' mother filed against the city. Smalls' mother and his estate claimed that an LAPD officer, who was later convicted of bank robbery, was involved and that the police department was ignoring evidence. The lawsuit was later dismissed.
The newly-published documents, despite the redactions, do indicate tension between the FBI and LAPD. Near the end of the FBI probe, the lead agent writes that he had been ordered to have no contact with the civil lawyers for the Smalls family. The agent notes in one report that he would not contact a certain source "because he/she is one of the main witnesses" in the civil suit against the LAPD.
Retired Los Angeles Police Detective Russell Poole, who worked on the Smalls' case, told CNN earlier this year that he believes Suge Knight was behind the murder, even though the Death Row Records' boss was serving time on a probation violation at the time. "Suge Knight ordered the hit," Poole says, adding that he believes it was arranged by Reggie Wright Jr., who headed security for Death Row Records. Poole goes even further, stating that he believes Knight was behind the shooting of Tupac Shakur as well. Poole says Shakur's bodyguards told him that the rapper planned to sever ties with Knight's Death Row Records which could have cost the company millions of dollars.
"That theory doesn't even add up," says Cathy Scott, who wrote "The Killing of Tupac Shakur," noting that Knight was sitting in the driver's seat next to the rapper. "Open fire on my car, but try not to hit me?" Reggie Wright Jr. told CNN he had nothing to do with either murder, and Suge Knight has repeatedly said he had nothing to do with the crime. But two months after Shakur's killing, Knight talked to ABC News and one quote seems to follow the former record company executive: "If you knew who killed Tupac, would you tell police?" To which Knight responded: "Absolutely not. It's not my job. I don't get paid to solve homicides. I don't get paid to tell on people."
Source:
Cnn.com