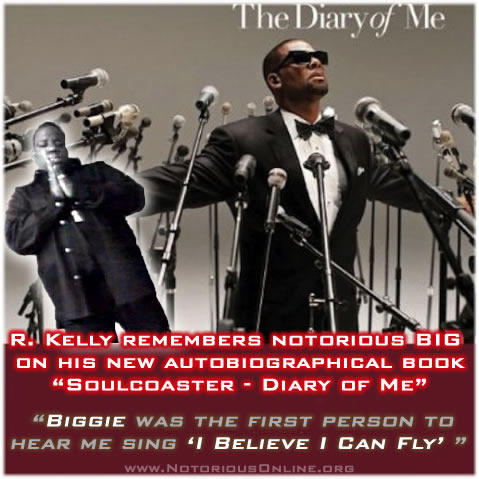 "
Biggie
was a lyrical genius, he was a musical painter with words. As he rapped, you would see the picture come to life as you heard his story. You hear a lot of rappers rap, you hear a lot of singers sing, but you don't see the movie in your head the way you do when you hear Biggie rap. We related in that way because I'm into painting the picture and showing you the movie of what I'm singing about, so it was a natural thing for us to collaborate. Something would have been wrong with the Earth if we hadn't done something together. When I got to Biggie's studio in New York, Biggie was in the backroom messing around with his lyrics on the track; then he came out and showed me the first verse on "
F*ck You Tonight
." While I was listening to his verse, I was already hearing the chorus in my head. I didn't say anything and kept grooving to the track. And I had the chorus immediately.
Soon as I sang it: "
You must be used to me spending and all the sweet wining and dining ...
" He stood up, he was tripping. "
That's it! That's it right there.
" He loved it, just as much as I loved his verse. There was such a mutual respect between us. I didn't feel like I was working with just any rapper; I felt like I was working with someone who had a heart, someone who understood the significance of his own gift and of mine, and what it meant for them to merge together and for us to get together on the song. Biggie loved R&B music. He never felt that he was too tough for R&B.
As with all the other rappers I've worked with, Biggie and I shared common ground. Even though Biggie grew up in Brooklyn and I grew up in Chicago, we came from the same 'hood. We knew the same characters. We'd been through a lot of the same shit.
One time we were on tour together and we were staying at the same hotel in Detroit. It was late and the after-party was over. The hotel-lobby party was over. The hotel-room party was over. There were still people hanging out in the lobby. And I was back in the lobby where they had this piano. I had just recalled that childhood dream with the cartoon characters chasing me. I remember the melody from that dream and was trying to figure out the rest of the lyrics, working on what would become "
I Believe I Can Believe Fly.
" Biggie and his crew came in the lobby about four in the morning.
"
What's up, baby! Great show, baby! What you doing?
". He came over to the piano, and I started to play it for him: "
I believe I can fly, I believe I can touch the sky . . .
" but so far that's all I had. "
I'm gonna tell you right now, B, that's a smash. That's a big hit right there. That's a Grammy winner, Rob.
" When I was playing it for him, I was thinking – he's a hardcore rapper; this is gonna be too soft for him – but when I got through and looked up, his face was wet with tears. "
My brother
," he said, "
they gonna be playing that when you and I have moved on to the other side of time.
"
I was blown completely away because here was one of the greatest in rap, recognizing a song that was about humanity, about uplifting people and feeling the power of the song that took me beyond Biggie the rapper or Biggie the writer. That connected me with Biggie the man. Biggie was the first person to hear me sing "
I Believe I Can Fly.
" That was a great moment.
The death of Biggie in 1997 hit me just as hard as Tupac's death the year before. Another genius went down for reasons I never understood – and still don't. Just a couple of months after he was killed, his album Life After Death dropped that included our collaboration on "F*ck You Tonight." Biggie was among the first hardcore rappers to understand – as I did – that a club cut was different from a radio cut. Profanity had leaked from streets into rap, and then into R&B. We all got caught up in it. I didn't mind singing a lyric like "I'm f*cking you tonight" in a club jam. I thought it fit into that slot perfectly, and so did million of fans who bought the record.
After that collaboration, rapper after rapper came knocking at my door. And I was happy to open that door and let them in. I took it as a compliment that they thought I could contribute to their art form.
When Fat Joe, for example, came to see me in a studio in Miami, he came with deep respect. Thug as he was, street as he was, the man was all heart.
"Kells," he said, "you got to write me a hit, Bro."
"I'll do my best, Joe."
Fat Joe didn't come alone. His posse must have been 20 deep, all hanging in the studio, watching and waiting for me to come up with a killer jam.
"Tell you what," I said. "I do better when I work alone. Y'all take a walk or go to the beach. The ocean out here is really beautiful. Give me an hour, and I'll come up with something."
"No problem, Rob," said Joe.
Half-hour later him and his boyz were back.
"Got something, Kells?"
"Matter of fact, Joe, I do."
Played the track, sang the chorus, and Joe was all smiles.
"It's a monster, baby," he said."
"I like it myself," I said, as I kept singing the chorus:
We thuggin', rollin' on dubs . . .
The jam, "We Thuggin'," hit big in late 2001. Soon all the big-time rappers were coming around. Got to the point that a rap with a Kells chorus gave you even more street cred. Slick Rick, Doug E. Fresh, The Game, T.I., Elephant Man, Li'l Kim, Missy Elliott, Wyclef, Snoop, Twista, Do or Die, Young BloodZ, OJ Da Juiceman, Swizz Beatz, Chamillionaire, T-Pain, Ludacris, Huey, Kid Rock, Ja Rule, Big Tigger, Nelly, Äîwe all worked together. "Supaman High" and "Reaggae Bump Bump" and a slew of others became club classics. These songs became part of my identity.
Both as an artist and a businessman, I liked that identity. As an artist, I was working with other serious artists. As a businessman, I saw club tracks as a new franchise that could be profitable for years to come. It was like being in McDonald's and realizing that even though cheeseburgers and fries sold big, you could also make money serving up McRibs, which are always available for a limited time only.
Beyond the fact that marrying rap and R&B made good artistic and business sense, the marriage was good for music lovers. It gave them what they were looking for.
What are music lovers looking for?
First thing is romance. Life can be boring. Romance is exciting. The thought that you might find real love is a beautiful thing. And if a song brings you that thought and helps you strengthen that hope, I say, Amen.
Music also needs to speak to your spirit, your inner core, that part of your soul that can get drowned by the drama of daily life. Don't matter if it's a romantic ballad or a hot sexy song, music – at least the kind of music I do – has got to get all over your soul.
And then there's escape. Everyone needs escape. I need escape. Come Friday and Saturday, Kells is gonna party. You can't have a party without music. I don't care where you go around the world, you will see people – in Africa or England, in Jamaica or Japan – looking for a way to let off steam. During the week, we walk around all stiff and uptight. We have to watch every step we take and every word that comes out of our mouths. Come the weekend, we're tired of holding it in. We got to let it out. We need release. We need relief. We need the club and all the good feelings that the club brings.
Being up in the club, in the VIP with the greatest rappers who ever rocked a mic, made me proud. Made me feel like I was living right where my people were living. Like I said in my first album, my career was born in the Nineties. I wanted to be part of my times. And it was – and remains – a great blessing that I could swing back and forth between two cultures. Maybe I could even contribute to a conversation between those two cultures.
When it came to music, there was no shame in my game. I'm at my best when I am wanted, and whoever reaches out to me is going to get my best. Bring on the rappers, baby. Let me keep dreaming that big dream where R&B and rap share the biggest stage in the world. Where R&B and rap go on the biggest tour in history. That dream was deep in my soul. It was going to happen. It had to.
Excerpted from the book
Soulacoaster: The Diary of Me
by
R. Kelly
with permission from SmileyBooks, out June 28th. R. Kelly's most recent album, Write Me Back, is out today.
Source:
RollingStone.com