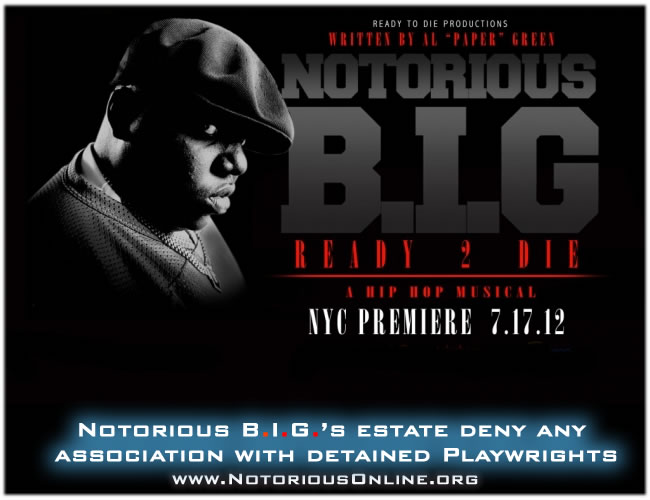 Representatives for the estate of the late great
Notorious B.I.G.
have denied reports that they are connected with a musical about the rapper's life, after two men were arrested in connection with a bizarre theft from a bookstore on July 17, 2012. Writers
Alfred Green
and
Raheim Pope
had claimed they were producing a musical titled
"Ready 2 Die"
, which would focus on Notorious B.I.G.
Green and Pope were arrested for stealing $888 books from a Barnes & Noble in Westport, Connecticut. The two men initially denied the stolen booty found in a Jaguar with Georgia plates was theirs. At the station, a tip from Green lead to a cavity search of Pope, who had hidden the key to the getaway Jaguar in his rectum.
"Please note that this is an unauthorized play. Our firm has previously sent a cease and desist notice and any association with the Estate of Christopher Wallace or Notorious B.I.G. are unauthorized,"
a rep for Notorious B.I.G.'s estate told AllHipHop.com.
Green and Pope issued a casting call for the unauthorized play back in March, but the estate warned B.I.G.'s fans that they are not supporting the musical. "There is no connection or association between the Estate of Notorious B.I.G. and Alfred Green and Raheim Pope," the rep told AllHipHop.com.
Source:
AHH.com