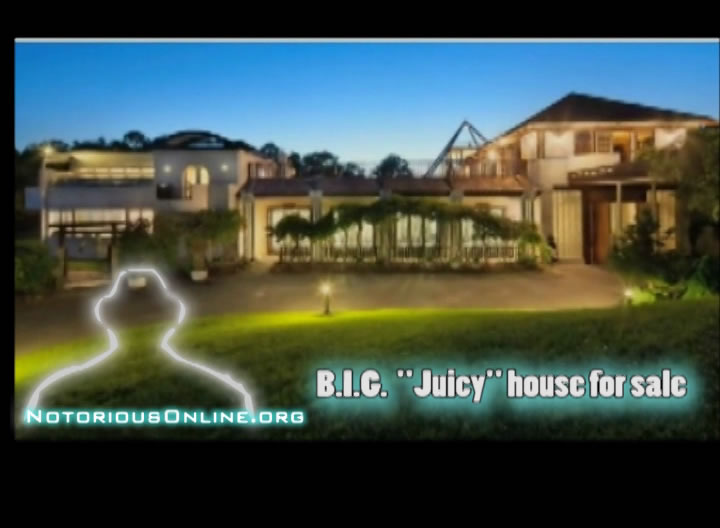 In the classic rap video '
Juicy
,'
Notorious B.I.G.
raps the phrase "
from ashy to classy
" as he and his crew are partying poolside in a luxurious mansion. The iconic house featured in the 1994 video is now up for sale for a pricey $11 million.
According to Zillow, the Hamptons estate was designed in 1986 by Japanese sculptor Setsuo Ito, who used the ancient art of feng shui to create its serene environment. The beautiful mansion is located in Water Mills, N.Y., and it sits on 9 acres of plush greenery including a forest and a massive garden. In addition, the 7-bedroom, 6.5-bath house has a 300-ft. elevation, which offers a surrounding view of the Atlantic Ocean.
The centerpiece of this stately home is the 32-foot-high pyramid above the pool area which was featured in Biggie's 'Juicy' video (watch below). Another part of the house used in the video was the spacious all-white kitchen where B.I.G. and Diddy (Puff Daddy at the time) were having a business meeting.
Ashley Murphy, PR rep for real estate broker Prudential Douglas Elliman, doesn't know the back story on how Diddy and director Hype Williams discovered the estate, but it's obvious why they picked it. "It exudes wealth and luxury — the kind of thing that the video called for," Murphy says.
The current owner previously bought the mansion for $3 million and has been painstakingly refurbishing the home and built an exercise room. So if you want to own a piece of hip-hop history and have a couple of mills to spend, give Prudential Douglas Elliman a call.
And if you don't know, now you know. Baby bay-bee!
Watch news video clip below:
http://notoriousonline.org/bigtv/BIG...e-for-Sale_v65
Source:
Newsweek.com