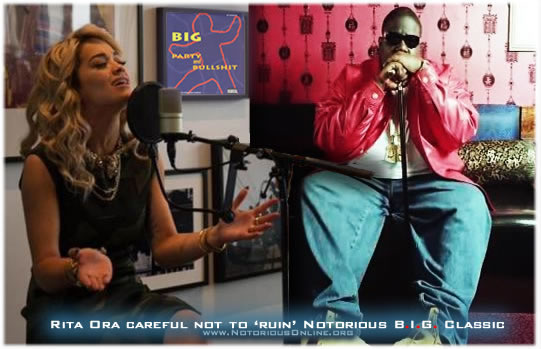 Rita Ora
was careful not to ''ruin'' the late great
Notorious B.I.G
.'s '
Party and B*****t
' on her track '
How We Do (Party)
', which uses some of the same lyrics. The singer took a section from the late rapper's track for her UK number one single, but didn't want there to be too much similarity between the two songs, because the original was so good.
She explained:
''I know there are so many B.I.G fans out there that might be like 'how dare you take that song and ruin it?' ''But I didn't because I didn't try and rap like Biggie. I literally wanted to take the song and do the complete opposite so there was no comparison what so ever.''
Rita said she chose to tale the lyrics from the rapper's song because it was one of her favourite raps and summed up the message she wanted the song to have.
She added to music streaming service Spotify: ''The first ever rap song I ever heard was 'Party and B******t', a Biggie song. ''And 'Party and B******t' was the kind of song for me that always put me in a party mood and those two words really summed up a great party in my eyes - you party and you b******t - that's why you go to a party.''She also said she was keen for the track to be a ''summer jam'', adding: ''I feel like there's always room for someone to have a new summer anthem. ''Summer time, there's always something new happening in someone's life in the summer. 'Oh my god last summer was crazy' or 'somebody got a new tattoo' or something happened - anything.''