Speculation about Jay-Z's opening night at Barclays Center began as soon as the show was announced. How star-studded an affair would it be to celebrate the opening of a $1 billion arena only a few subway stops away from the Marcy projects where he grew up? Would his wife Beyoncé be pressed into duty? How about his friends, the ones so famous they only need one name — Kanye, Rihanna, Mary J.? Would the Obamas show? Would he resurrect The Notorious B.I.G. with a hologram?
Nah. This was personal. This show — the first of eight sold-out nights that will run through next Saturday — was about Shawn Carter aka Jay-Z aka Hova aka Brooklyn Nets part-owner aka Barclays Center part-owner aka President Carter. This was about his journey from drug dealer to not only one of the biggest stars in the world, but also to a captain of industry, as the Rocawear store and the 40/40 Club in the arena attest. "I think every single person in the world is born with genius-level talent," he said, adding that everyone needed to find their own talent. "I ain't no different from anyone here tonight . . . I hope that wasn't too syrupy and — but that's the way I felt."
He then launched into "Young Forever" to cap an unusual, nearly two-hour show that was often emotional, but also surprisingly bruising. Before leaving the stage, he added, "Brooklyn, it's our turn."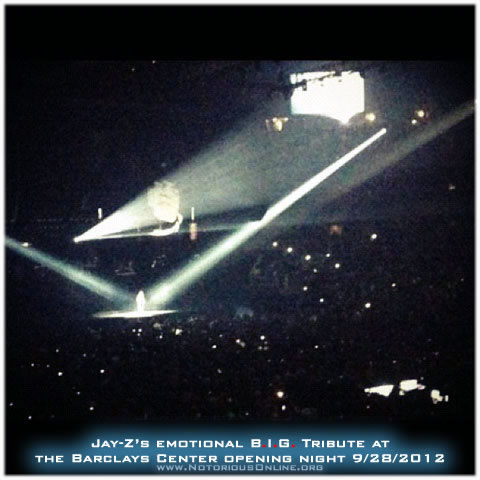 It's a sentiment that is echoed throughout the arena, from the borough's first major league team since the Brooklyn Dodgers left in 1957 down to the concession stands offering Brooklyn-made products. ("We cried so many years," he said, as a fan tossed him a Jackie Robinson jersey to hold up on stage.) It's also a sentiment that echoed throughout his set, in his many tributes to the late great Brooklyn rapper
The Notorious B.I.G.
, including a rap-along to
Biggie's
"
Juicy
" that was so loud and so on point it could only have happened in his hometown.
Jay-Z, dressed simply in a Brooklyn Nets jersey and jeans, wasn't really performing. He can be far flashier and far more entertaining than he was last night. His flow, while still impressive, can be crisper — though the reason for the slight hesitations was often that he seemed to be holding back his emotions.
It was more like he was leading a celebration the way a host leads a party. His wide-ranging set seemed actually arranged by emotion, starting with borough pride, moving into his own personal pride at the height of his own success and then going back to his hard-hitting roots. His delivery got harsher as he did "Murda Murda" and "Dead Presidents" from his early days. The sole guest of the night was Big Daddy Kane, the old-school rapper from Bed-Stuy who gave Jay his very first break in the music business. "We have to understand our history," Jay said, after Kane's smooth three-song set. "Brooklyn legend."
Jay-Z's opening night at Barclays Center will be part of history too, a part of Brooklyn legend. It will go down as the night Jay let his guard down, the night he finally looked behind him and saw how far he has come.
Source:
Newsday.com
Video of Jay-Z's B.I.G. tribute at Barcley's Opening: