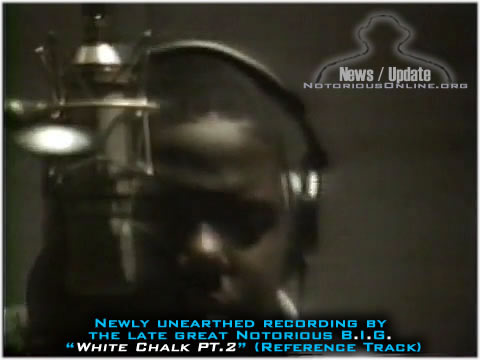 Newly unearthed recording by the late great
Notorious B.I.G.
entitled "
White Chalk Pt.II
" (Reference Track). It looks like
DJ Capone
, who is well known for releasing an assortment of D-Block mix-tapes, has unearthed a very rare hip hop artifact off his upcoming mix-tape entitled "
Platinum Professional
. This recording is actually a reference track from the classic debut album by
Junior M.A.F.I.A.
"
Conspiracy
". Ironically the track is also entitled "
White Chalk Pt. 2
".
The late Notorious B.I.G. not only was featured on this album, but he had a hand in the production and coaching of the artist. He created reference tracks like these so that the artist that would eventually record this track would follow and use B.I.G.'s verse (s) as a rough draft to apply their own final vocal version. There have been a few reference tracks that have surfaced so far.
This just adds another inexplicable and enigmatic mystery to the other unknown tracks that have not seen the light of day for his fans. While we wait in anticipation for more tracks like these to be excavated, you can listen to this rare and authentic B.I.G. track below: