While many people and elected officials have simply followed the Weather Channel's decision to call the snowstorm hitting the Northeast "
Nemo
," the mayor of one city in Connecticut has decided to come up with his own name for the blizzard and it's a reference to the late, great rapper
Notorious B.I.G.
In a series of tweets sent today, Danbury Mayor
Mark Boughton
has used the
#SnowtoriousBIGII
hashtag to refer to the storm.
"
Wind is definitely picking up
," Mr. Boughton wrote this afternoon. "
This is becoming an old school storm. #OG #snotoriousBIGII
" Politicker asked Mr. Boughton whether "
Snowtorious B.I.G.
" was the official name for the storm within the City of Danbury. "
Yes. Of course
," he replied.
Mr. Boughton, who was first elected in 2001, also pointed out he previously used the reference to the late, great rapper Biggie Smalls A.K.A. Notorious B.I.G. to refer to another snowstorm two winters ago. "
This the 2nd storm to carry the hashtag. Hence the II at the end
," wrote the mayor.
During the first "
Snowtorious B.I.G.
," Mr. Boughton, who has been on Twitter since 2008, drew national attention for the way he communicated with constituents on the social media site during the storm. He dispatched a plow to a snow-covered street after a tweet alerted him to the situation there.
Since he named the storm after Mr. Smalls, we also asked the mayor if he's a rap fan. "
I love all kinds of music including Biggie Smalls
," wrote Mr. Boughton. If you don't know, now you know.
Check out the official
tweets
below: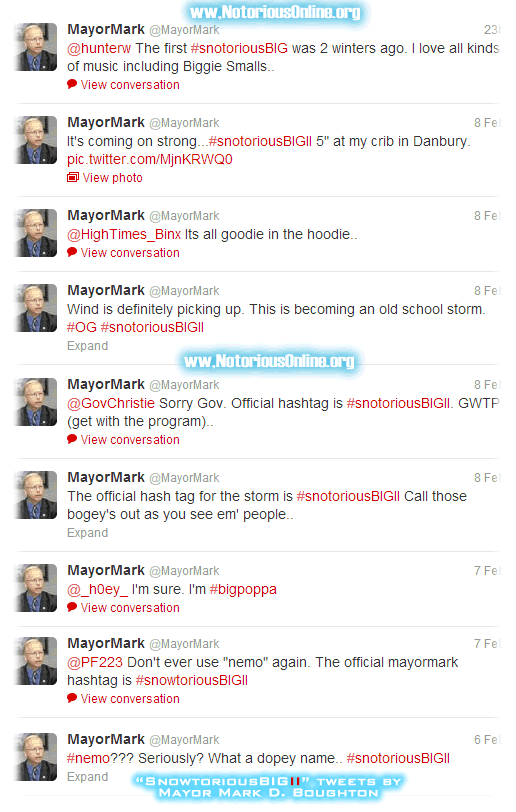 Check out a
Snowtorious B.I.G.
Snowman:
Source:
Politicker.com
Source:
@MayorMark