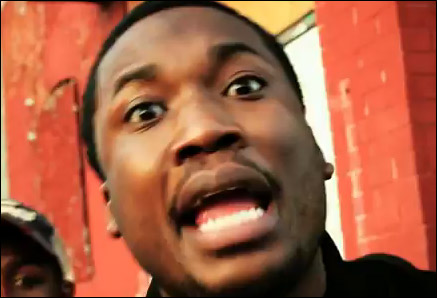 The Notorious B.I.G. died a little more than 16 years ago, and the pop culture that survived him still hasn't tired of picking his bones. The latest example is rapper Meek Mill, who recently invoked the New York rap legend to defend Maybach Music boss Rick Ross' widely criticized lyric that sure sounds like it's endorsing rape.
In an interview with Urban Informer (via AllHipHop), Meek Mill shrugged off concerns about social responsibility as separate from hip-hop. "I don't even care about nobody criticizing no lyrics," he's quoted as saying. "People rap about killing stuff all day. Biggie said, 'Rape your kid. Throw her over the bridge.' It was nothing, it's just hip-hop."
Now, the relationship between art — especially hip-hop — and morals is too complicated to untangle here. Sexually explicit lyrics by 2 Live Crew led all the way to a Supreme Court case, and otherwise-progressive activists like Tipper Gore were among their loudest critics; Geto Boys' "The Mind of a Lunatic" actually includes the word "rape"; and when moral criticisms of artists like Quentin Tarantino come from Philistines like MSNBC host Joe Scarborough, it's easy to dismiss them.
That said, Ross' lyric is "horribly rape-y," as SPIN's Brandon Soderberg put it — emphasis on the "horribly" — and the rapper's uncomprehending response to the criticism suggests we're not talking about about art versus reality here. All signs indicate Ross is just ignorant about rape, which justifies the growing chorus of voices clamoring to hold him accountable.
Most relevantly to a music publication, though, Mill paraphrases Biggie's lyrics in a way that grossly misconstrues them. "What's Beef?," from B.I.G.'s landmark 1997 Life After Death, includes the following cringe-worthy lyric: "Don't they know my nigga Gutter fuckin' kidnap kids? / Fuck 'em in the ass, throw 'em over the bridge."
Now, RapGenius claims that's a reference to Wayne Williams, currently serving life imprisonment on a conviction for killing two adult men but also said by police to be responsible for a series of child murders. But either way, as in the Geto Boys' song, it's clear this gruesome lyric is meant as dark storytelling, not as an endorsement.
Biggie's not saying, to repeat Mill's misquote: "'Rape your kid. Throw her over the bridge.'" Ross did say, with hardly a trace of narrative distance, "Put molly in her champagne, she ain't even know it / I took her home and I enjoyed that, she ain't even know it."
Ross will have to take responsibility for his own appallingly insensitive (to say the least) lyric. It's not hip-hop's fault.
Source:
Spin.com