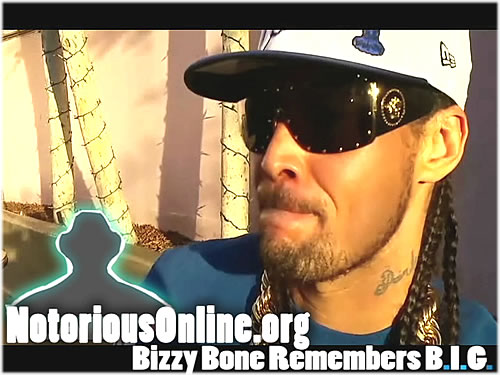 While speaking with Vlad TV, Bone Thugs-n-Harmony rapper Bizzy Bone spoke on working with the late great Notorious B.I.G. in the recording studio. The Cleveland, Ohio rapper was first asked how the group's
"Notorious Thugs
" collaboration with Biggie came about.
According to Bizzy, both Puff Daddy and Steve Lobel helped in putting the collab together. The rapper also revealed that it took Biggie "a minute" to get the style of "Notorious Thugs" down since he and those in Bone Thugs-n-Harmony were from varying regions of the country.
"
We were all in the studio together, man. It was a wonderful thing,
" Bizzy Bone said. "
Actually, Stevie J, he produced the track. He don't get enough credit. He produced the track…We laid the ground rules of it and then he had to learn it. We from the Midwest. He from the East Coast. It take a minute…He took it back home. He marinated with it and he made a hit. It's a difference in—He was a musician, man. And he wanted the best product, the best material that he could. And that's what he wanted. And that's what he gave us. It was a hell of a verse.
"
Bizzy Bone's interview with Vlad TV can be found below:
Source:
HipHopDx.com