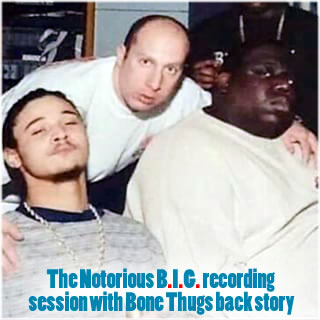 While chatting with DJ Mustard on the Blurred Culture channel, Bone thugs-n-harmony manager Steve Lobel describes the recording process for the "
Notorious Thugs
" collaboration with The late great
Notorious B.I.G.
"I was at a Ramada Inn on Santa Monica Boulevard," Steve Lobel says in the video. "Biggie just passed 18 years, so the song is 18 or 19 years. Fat Joe calls me and says '[Puff Daddy] is gonna call you. I think Puff had called Fat Joe because he knew I used to work with Fat Joe and we were really tight. I worked with Fat Joe, also Big Pun.
Puff called and said, 'Big's at the Record Plant he want to do a song with Bone.' I said 'Ok, let me round these guys up.' This is when they were poppin', young and wild. Wish Bone, who was Biggie's man, wasn't here He was in Cleveland. So I just called everybody, started rounding them up and one by one they all started arriving at the Record Plant. Big had cases of Cristal, cases of Hennessy, pounds of weed, I'm like, 'Nothing's gonna get done.'"
The track, which was produced by Stevie J and Puff Daddy, appeared on disc two of Biggie's Life After Death.
"That song was done in not even an hour and half by Bone," Steve Lobel says. "They went in there and laid there verses and left. I stayed thinking Big was gonna lay his verse and I'm like sitting there wanting to be the report card. He didn't do his verse. I left the Record Plant and Big passed. The song came out and I was like, 'Wooahh Big killed it.' I ran into Puff and he said, 'It took Big a while to do that. He mastered that and really studied it.' He just helped Bone on the East Coast…the East Coast was really fickle…. Bone and Biggie killed it and that was one of the biggest songs in Hip Hop, I feel."
Bone thugs-n-harmony's upcoming album, E. 1999 Legends, is set to be auctioned off later this year with the starting bid set at $1 million.
https://youtu.be/l6n4CX4qchY
Source:
hiphopdx.com