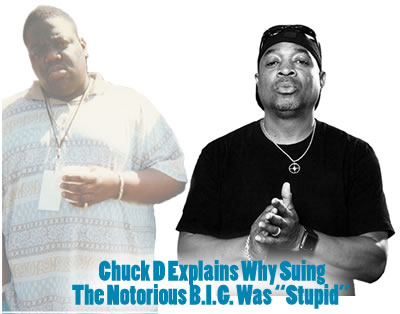 In the first half of DX's first ever conversation with Chuck Dangerous, the emcee/author/activist enlightened on some long-overdue clarity on this, the 15th anniversary of the passing of The late greet Notorious B.I.G., as to why he sued Biggie's estate in the late '90s over the usage of his instantly recognizable vocal for the countdown to Big's "Ten Crack Commandments" and why that lawsuit had "Nothing to do with Biggie."
DX: Yeah, definitely. I wanna switch gears dramatically here to The Notorious B.I.G. With the 15th anniversary of Big's passing coming up on Friday, I wanted to ask you if you ever crossed paths with Biggie, and if so what those conversations consisted of?
Chuck D: The first time I saw [The Notorious B.I.G.] was in the basement of Daddy-O of Stetsasonic's studio in Brooklyn. And he said, "Yo, I'm working with this kid, Big." [He was] this towering figure with a hood over his head. [Laughs] And I'm like, "Okay, nice to meet you."
One of the other times I saw Big was - I think he pulled something in his leg or his knee or something and [Diddy] was pushing him around - at a concert in Long Island. So at that time [it was like a] "How you doing? I'll help you with your wheelchair" type of thing.
I thought he was a good performer. But I think Puffy had a lot to do with that training and developing, and that's something that's overlooked. And when it came down to Big, I think Puffy was just as much of an important figure in his development as Big was with his ability. And, I'm not a person who goes on hype, I've seen 'em all, so … I rank him high. People said he's the greatest ever, I said only a kid would be fascinated. And I wasn't a kid.
DX: I have to ask this follow-up: Did you ever regret at all suing over the "Shut 'Em Down" [vocal] sample in "Ten Crack Commandments"? 'Cause I know DJ Premier was seriously pissed at you for years after that.
Chuck D: Me and [DJ Premier] is cool. Matter fact, that was an issue before I even knew Preemo was a part of the thing.
Remember, Bad Boy [Records] was going around saying how much money they had and this and that, and I had songwriters who are connected to me who were basically saying, "Well, the song that they're using, Chuck what's up?" And the fact is that the crack commandments were something that I was like okay … I don't agree with it, but … it's a master use, whatever. But songwriters want their piece. And they, [the song's producers, The Imperial Grand Ministers Of Funk], said, "Well, if they're going around and flaunting and falutin about how much they got … then what's up with our rights to the song?" And I'm like, "Okay, alright you guys." So, I mean, this is not no kids game, this is real shit.
Taking [my] voice to me is a defamation of character, but really the songwriters pushed the issue as saying, "Alright, that's part of our song too and we helped write that, so where's our royalties? Who handles that?"
DX: So this was more business really than a personal issue?
Chuck D: Well, my thing is I don't go after anybody. But in that particular case, which was coming from Bad Boy, which was BMG, which was who sued me on another end – it was like one of those things. So it really had nothing to do with Biggie. Nothing. It had nothing to do with Premier. And at the end of the day, it was Def Jam and Bad Boy, it was BMG and Universal. It was really one of those … it was just stupid.
But at the same time, I told Puffy, I said, "You know, you guys, when it comes down to me give me a heads-up. Don't be doing something [when] you know where I am and you know where I come from. How you gonna just go and do some shit like that and not talk to me?" And from that point on, it was cool. That's when you seen [Diddy remake] "Public Enemy No. 1." And he called me [about that] when I was in the middle of Guitar Center or whatever and said, "Yo, I just wanna know if it's cool?"
So, that was the biggest thing … talk to me. And, kids only look at the lawsuit. They're kids, what do they know? They scream and holler about anything, but at the end of the day it was a settlement between Universal and BMG, Bad Boy and Def Jam. It had nothing to really do with me.
Those guys are all in bed with each other, but nobody asks that question.
DX: Well let me ask that question -
Chuck D: For the longest Puffy was mad at Russell [Simmons]. [Laughs] So I'm like, "Look, I ain't in the middle of all that. Just make sure you call me before you do anything regarding me if you gonna go in that direction. Simple as that." It's simple. And it's been cool ever since.
And me and Premo's been fine ever since, but you know … initially Premo had nothing to do with it. Not with me. I'm like, "Okay, you tied with this by default," but … I don't know.
DX: I think he just took it as maybe a personal slight [since he produced the track].
Chuck D: Yeah, because he was tied up with that whole Bad Boy operation, and so when it came down to him actually receiving his royalty for the song they wanna tie him up. So I'm like, "Yo, man, forget all that. Let's deal with each other as people."
People have the understanding now, [but] at that time people were sticking their noses all up in the corporations booty.
DX: At that time, you mean, what, last week? [Laughs]
Chuck D: No, especially back [in the '90s]. As much money as they was paying people, and people flaunting and throwing money at the camera, it was like the majors had a dominant hold on people's … everything. And I was rebelling against that structure. Hard. I was like, "Man, fuck BMG. Fuck Sony. And fuck Universal too." I was going after them hard. And still to this day.
Source:
hiphopdx.com