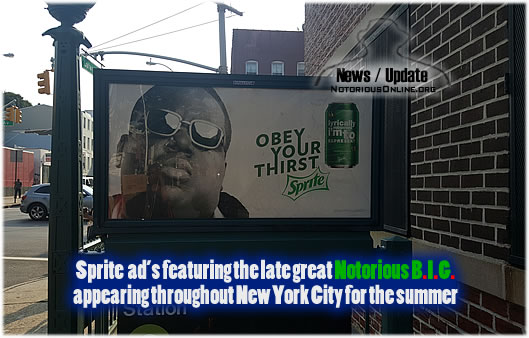 If you been taking the subway or trains in the city, then you might have just have noticed that the new Sprite ad's have running in the Subway and the trains are now featuring the late great Notorious B.I.G.
Sprite recently rebranded themselves as purveyors of not just pop, but also hip-hop documentaries. A new ad campaign sees the Coca-Cola owned soft drink company emblazoning their cans with lyrics from the likes of Rakim, Nas and the late great Notorious B.I.G, and in conjunction with the fresh cans, the company have produced a series of short films starring some of the featured rappers.
Recently Nas performed in NYC and celebrate the launch of the Sprite Obey Your Verse Lyrical Collection, a limited run of sixteen bottles and cans featuring lyrics from Drake, Nas, Rakim and of course the late great Notorious B.I.G.
If you spot an ad in your town, post it and share it with the community. You can also check out more images below of the ads featuring Notorious B.I.G. with his classic verse "
Lyrically i'm supposed to represent
":