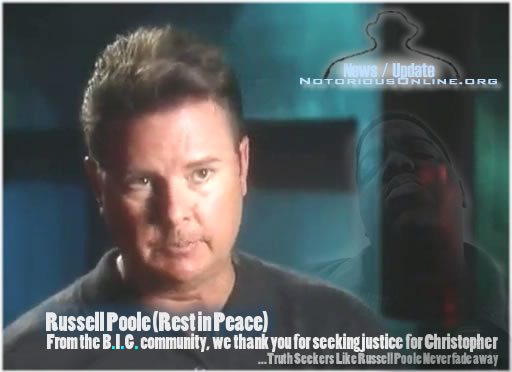 The former LAPD detective best known for his involvement in rapper Biggie Smalls' murder case, died suddenly Wednesday of a possible heart attack, sources told NBC News.
Russell Poole was discussing a cold case murder investigation with Los Angeles Sheriff's Office homicide investigators when he was stricken at their Monterey Park offices.
Sheriff's Investigators performed CPR and Poole was rushed to a local hospital but a short time later was pronounced dead.
Poole was known as an aggressive and outspoken investigator. He first gained attention for his investigation into a March 1997 shooting involving two LAPD officers on a Universal City street that left one of them dead.
That incident took place shortly after Biggie Smalls, a.k.a. The Notorious B.I.G., a.k.a Christopher Wallace, was ambushed and fatally shot while he drove from an event at the Peterson Automotive Museum in Los Angeles.
Poole joined the investigation of the murder into the rapper, but it became fraught with controversy and finger pointing. Poole alleged that police were involved in the killing, as part of a general theory that the killing sprang from an East Coast-West Coast rap feud. That later became the basis for a cottage industry of conspiracy theories and civil lawsuit by the rapper's family against the LAPD. The suit was later dropped.
No arrests have ever been made in the murder.
Poole eventually resigned from the department in 1999 but maintained police involvement in the killing including saying it had links to Ray Perez — the LAPD officer at the center of the Rampart Corruption Scandal that plagued the department in the 90's.
Poole also wrote a book about the events, which sported the wordy title "LAbyrinth: A Detective Investigates the Murders of Tupac Shakur and Notorious B.I.G., the Implication of Death Row Records' Suge Knight, and the Origins of the Los Angeles Police Scandal."
From NotoriousOnline, Our deepest condolences to Russell Poole's family, Friends and supporters.
Source:
NBCNews.com