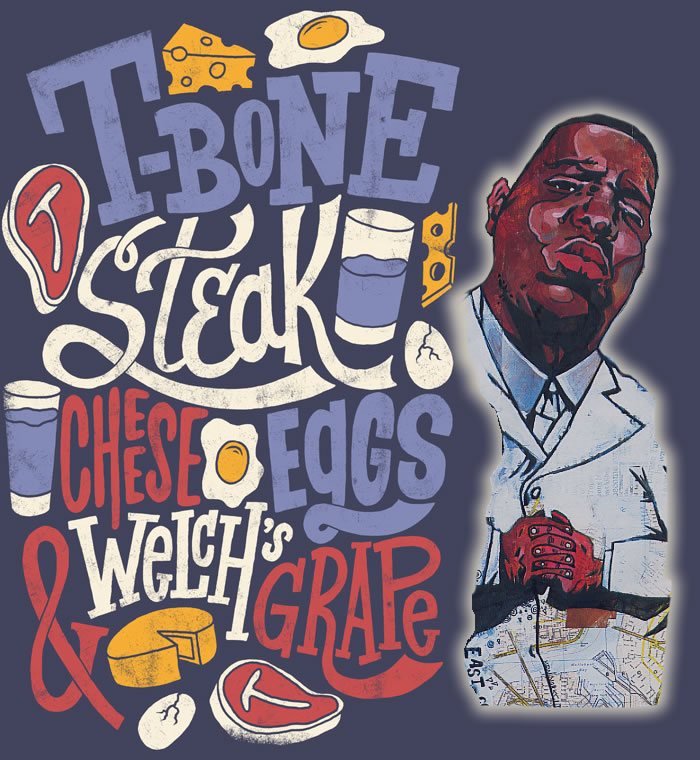 To the realm of long-running debates – nature versus nurture, Star Trek versus Star Wars, chocolate versus peanut butter – we must now add another: jelly, juice, or soda?
The Notorious B.I.G.'s 1995 song "Big Poppa" got some renewed attention this month, when one of its couplets became the subject of a heated online argument. The discussion began on the Facebook FB +0.00% page of singer Mela Machinko, who had no idea what she was about to get into.
"Late Wednesday [September 2nd], I came across a meme on Facebook," she told me. "It was a photo of Welch's grape juice, steak, and eggs, and the caption was, 'True hip-hop fans will get this.'"
The meme that started it all.
For those unfamiliar with mid-90s rap, the picture refers to a moment from the second verse of "Big Poppa." Biggie needs to kill some time until he and his friends meet some women "at the bar around two." So:
Plans to leave, throw the keys to Lil' Cease
Pull the truck up front, and roll up the next blunt
So we can steam on the way to the telly, go fill my belly
A T-bone steak, cheese eggs and Welch's grape
Machinko mostly shared the meme "because I was hungry and steak looked delicious." But it set off an unusual conversation.
"People were like, it's supposed to be soda [in the picture]," she explained. "I'm like, stay focused – I want to talk about steak [laughs]. But then someone said it was supposed to be jelly. I thought literally no one in the history of the world actually thought it was jelly."
From there, it was off to the races. Debate raged on over whether "Welch's grape" meant soda, jelly, or a late but persuasive entry into the race, juice. Here, then, is how the debate stacks up so far:
Juice:
There were two eyewitnesses to Biggie drinking Welch's grape juice with his breakfast food. Writer Thembisa Mshaka shared a meal with the late rapper only a few days before his untimely passing (an experience she remembers in this blog post), and he had grape juice along with his eggs.
The proof is in the...jelly – Big and Thembisa Mshaka, March, 1997.
This preference was backed up by another person close to Big, music biz vet Larry "Hawk" Burns, who used to occasionally call in room service orders of the juice for the thirsty rapper. Speaking of music biz vets, The Roots' bandleader Questlove also came in strongly for juice.
Jelly:
Jerome "Knobody" Foster, a producer who was part of Bad Boy Records' Hitmen stable during Biggie's tenure at the label, vouched for jelly without hesitation when contacted by fellow producer AntMan Wonder. In addition, the so-called "implied toast theory" was developed by Charles Only to support the idea that toast must have been part of the meal, even if unspoken, and thus jelly was a natural addition.
Soda:

In one of the raging debate's most surreal moments, James "Lil' Cease" Lloyd, Big's longtime friend – and the man actually mentioned in the lyric in question – threw his lot in with soda on Instagram after being asked by soda proponent Koku Tona.
Lil' Cease weighs in.
With the answer still inconclusive, debate raged on around mind rhyme (the unsaid "jelly" rhymes with "telly" and "belly", it was pointed out), cultural and regional differences in naming drinks, and much more. Big's favorite diner, Country Kitchen, even received what must have been a surprising phone call from Machinko's friend Nakia Hansen asking which Welch's grape products they served (all three, as it turns out).
The debate (or #GrapeGate, as Mshaka has dubbed it) has captured the attention of the media, with stories appearing on BET and Hip Hop Wired. In hopes of settling this once and for all, Machinko is organizing a debate on Monday, September 14th at 1 PM via Google GOOGL +1.95% Hangout, with leading defenders of each of the three theories battling it out. She warns that one team claims to have some "strong video evidence" for juice. But no matter which way it turns out, she's having a ball. "This is the most fun I've had on Facebook in recent memory," she said.
Forbes reached out to Welch's for comment, but they have not responded at this time.
Source:
Forbes.com