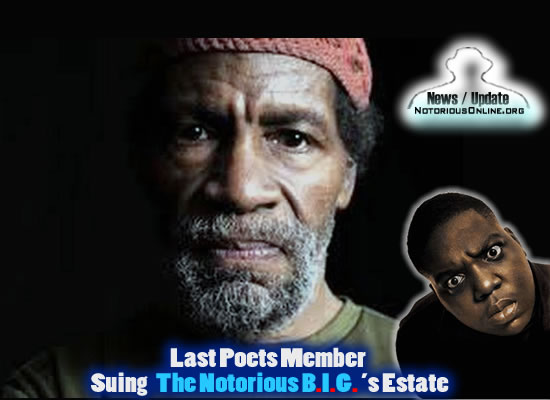 The late great
Notorious BIG'
s estate,
Jay-Z
and
Rita Ora
are among those to have been hit with a hefty copyright infringement lawsuit. Poet Abiodun Oyewole is suing Biggie's estate for $24m (£17m) over the alleged unlawful use of his lyrics in the late rapper's 1993 classic
Party and Bullsh*t
.
In the lawsuit, which was filed at a New York federal court and obtained by JasmineBrand.com, Oyewole claims he and his spoken word group The Last Poets coined the expression "party and bullshit" in their 1970 track "
When The Revolution Comes
". Ora, who is signed to Jay Z's Roc Nation, sampled the lyrics on her 2012 debut single How We Do (Party), also without Oyewole's "consent or authorisation".
The complaint states: "The defendants did not credit the plaintiff nor secure permission... to sell the plaintiff's hook, copyrighted lyrics and recordings." In addition to Ora, Oyewole is suing Jay Z's Roc Nation and P Diddy's Justin Combs Company for producing the song, while Eminem and Busta Rhymes have also been named for sampling Party And Bullsh*t on their 2014 track Calm Down.
Explaining why he did not file the lawsuit sooner, Oyewole says that he was hesitant after Biggie's death in March 1997 and saw "no reason to hassle [Biggie Smalls'] widow or mother following the loss of their loved one". However, he was spurred to take action after Ora sampled Party And Bullsh*t and only credited Biggie Smalls, real name Christopher Wallace. The poet insists the defendants were made aware of his copyright infringement claims but they repeatedly "failed and refused" to offer him payment.
Among his allegations, Oyewole says the defendants changed the meaning of When The Revolution Comes, which encourages people not to party, stating the song was recorded with the "sole purpose of challenging and encouraging people to NOT party, but to move towards success". The lawsuit also claims Oyewole has "sustained and continues to sustain damages [and] suffered and continues to suffer irreparable injury", and is therefore asking for $24m in damages and unpaid royalties.
Listen to
Notorious B.I.G (Biggie Smalls) Party And Bullshit (Original Video 1993)
:
Source:
Ibtimes.co.uk