1994. I was a scrappy 10-year-old, young enough to still be considered a child, but old enough to start taking on responsibilities and begin garnering a level of financial independence. In exchange for completing chores around the house, my mother began to give me an allowance of 5 dollars a week, a small fortune in my household. This financial reward came with the understanding that I would make smart and informed fiscal choices. Choices that would prove to be beneficial to and enhance my understanding of the importance of earning and saving a dollar.
And I did just that.
$3.49 of the first crisp five dollar bill that I ever earned was soundly invested at Sam Goody on a copy of Biggie Smalls' "Juicy", my first music purchase in life. An investment that made me fall in love with hip hop.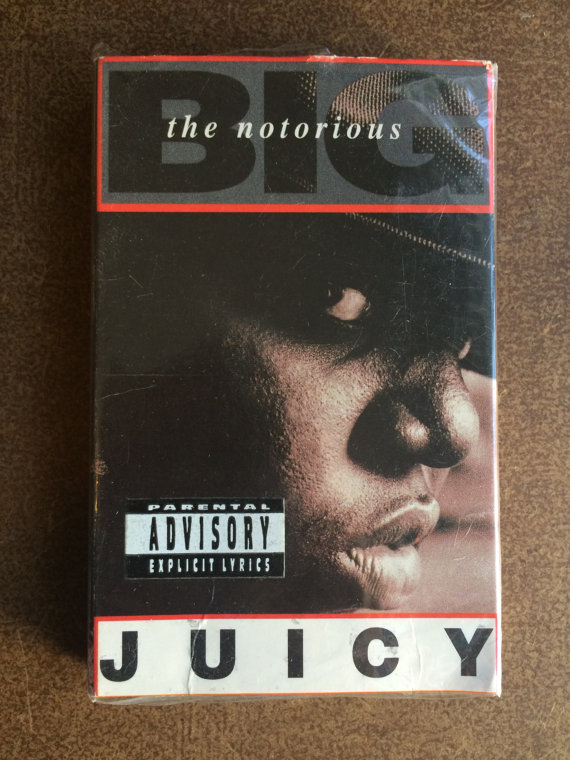 To say that I let my tape rock till my tape popped would be an understatement. I ripped the plastic off of that cassette single and proceeded to play the entire SHIT out of it to the point where the writing became illegible and I could no longer find enough #2 pencils to wind it up with. I owned a see through Sony walkman and from that point on it was all BIGGIE everything.
School field trip bus rides? "Notorious Thugs."
Car rides to Wal-Mart with my mama? "One More Chance."
On the way to church on Easter Sunday in my white tic tac shoes? "Get Money."
I even blasted Biggie from my little cousin's Teddy Ruxpin. I meannnnn it was B.I.G. by any means necessary!
Although her saved and sanctified ass was never opposed to Trina and Trick Daddy's "Nann N*gga," when it came to B.I.G., my mother did not get it. She would come in from work to find me watching Biggie videos on Rap City and yell, "Get his ugly cussing ass off my TV!" But for some reason, ugly ass and all, I really connected to this brotha's music.
My mom's favorite question was, how? How could I identify with this music? I lived in Heathsville, Virginia, population 142. Every Sunday, we were the first members of the congregation to show for Sunday School and the last to leave Sunday service. I won science fairs and writing contests. My mama made my breakfast and dropped me off at school everyday in a minivan.
I had never seen, smoked, sold or touched a drug or a gun. The only streets I knew were Street Fighter and Sesame. What did I know about having the tre deuce and the deuce deuce in my bubble goose? Not a damn thing. But, that was the beauty of Biggie's music. It resonated with an entire generation of people.
"I had never seen, smoked, sold or touched a drug or a gun. The only streets I knew were Street Fighter and Sesame."
Unarguably the greatest storyteller to ever touch a microphone, Biggie Smalls ushered in the golden era of hip hop, the Bad Boy Era. The same era that brought us take that, take that Puff Daddy with the gray patch, I was murder P. Diddy made me pretty Ma$on Betha, Lil' Kim's first 2 faces, The LOX in shiny suits, white Steve Harvey suit wearing sangin' ass 112, Carl Thomas' prototypical s-curl emotional presence, blonde updo and "Soon as I Get Home" Faith Evans and the always off key but always on point Total. While each of these artists have a place in the hierarchy that is '90s Hip Hop and R and B royalty, Biggie always stood out from the rest of the pack.
The only Christopher we acknowledge is Wallace. Heart throb? Never. Black and ugly as ever. Versace shades and shirts. Coogi Sweaters. Ferragamo Shoes. Gucci Suits. Karl Kani denim outfits. The man was iconic. Frank White found a way to connect his life story to your life story and tapped into something special in the process. Even if, like myself, you never sipped on Private Stock, packed a Smith and Wesson or owned a red and black lumberjack with the hat to match, the rags to riches story is one that so many people can identify with.
The idea of being born into life's gutter, a circumstance of nothing-ness, and turning that nothing into something beautiful is a universal odyssey that almost everyone has traveled at one point in life. The necessity to do what needed to be done to provide for your child. The pain and struggle of watching your mother work hard to make ends meet and put clothes on your back and hot food on the table three times a day. It was all relevant.
While some heard a drug-dealing manifesto when they heard "Juicy," I and many other young Black men heard the tale of believing in a dream and persevering in spite of the obstacle ridden hand life dealt you. While some heard boot knocking and bottle popping on "One More Chance," I heard the epitome of Black male confidence and bravado in spite of what society would expect from one of his physical appearance. I recognized the importance of having a code of ethics and an enterprising spirit in order to succeed in life on "Ten Crack Commandments."
I observed the evolution of the definition of success and achievement throughout life on "Sky's The Limit" and learned to never allow where you are from define your life's altitude or your aptitude. Biggie's messages weren't always perfectly wrapped in the neatest packages, but they were there if you opened your mind to receive them.
Unfortunately, one of the biggest life lessons we can learn from Biggie is a direct product of one fatal encounter 19 years ago this month, when Christopher Wallace was murdered.
The case is still an "unsolved mystery." But what we do know is that amidst the whirlwind that was the beef between Brooklyn born Biggie Smalls and Live and Die in L.A. ambassador Tupac Shakur, a media sensationalized war between the East and West Coasts ensued and when the smoke cleared, both of these young, talented, prolific Black men were gone. Murdered. Deaths that were caused by rumors, speculation, lies and greed but most tragically, a lack of trust between Black men.
We don't know who killed Tupac. We don't know who killed Biggie. But, we do know that at one point, these men were friends. And what we further know is that, at times, it seems as if Black men in this country find it easier to hate one another, tear one another down and even kill each other than it is to be able to trust, love and uplift. Those attributes are basic necessities for any culture to survive. Without being able to show love, appreciate and help one another, we are slowly killing each other every day.
Black masculinity is so fragile. Often, the definition of Black masculinity is so diluted, poisoned and tainted. It is wrapped up and dependent upon the degradation of Black women, the combativeness and competition with other Black men, the foolishness of pride and the egotistical measurement of how many bodies one can accumulate both sexually and murderously. We have to begin to redefine what it means to be a Black man and learn to trust and build each other up if we ever want to regain our strength as a community.
"We have to begin to redefine what it means to be a Black man..."
It is this same distrust between Black men that killed Malcolm X as he stood on a stage in Harlem's Audubon Ballroom delivering a message to his very assassins, whose minds were infiltrated, on working together to build a stronger more united community.
It is the same divisiveness that causes Black men to look at this Vanity Fair magazine featured picture of Ryan Coogler and Michael B. Jordan, two Black men who are helping each other achieve new heights in their careers and changing the face of Black men in Hollywood, and see homosexuality, ignorantly label homosexuality as a scarlet letter and brand these brothers with misplaced disgust because the concept of two Black men being able to be friends, love each other as brothers and publically embrace one another out of love, respect and admiration is so foreign.
It is this same necessity to tear one another down that causes Black men to ridicule Odell Beckham because his hair, the way he dresses and dances doesn't fit into the box of limitations we have set as what is acceptable behavior for a Black man.
As Black men, we are targeted by so many, the police, materialism, sex, drugs. Black boys are dying over loud music. Black boys being suffocated in gym mats in the middle of the school day. Killed for playing with toy guns in a park. Killed for shopping in Wal-Mart. Killed for being 9 years old in Chicago and for being a baby in a stroller in Brownsville.
This is not a time to be divisive, Black men. Our lives depend on our solidarity. The external war waged against us is so large that we cannot afford to continue to fight the internal war as well. We have to be united to stand up to the many people who wish to see our demise. We are our only hope. Learn to love your brother. Learn to respect your fellow Black man. Let's keep each other alive.
Let Biggie's last lesson be a lasting one:
Spread love, it's the Brooklyn Way.
Source:
Huffingtonpost.com