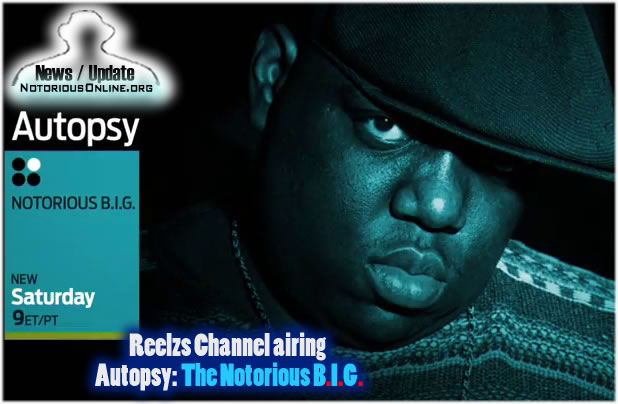 The late great Notorious B.I.G, the gangster rapper who was gunned down in an L.A. drive-by shooting almost 20 years ago, is the feature story for
Reelz
Channel's
Autopsy:
N
otorious B.I.G.
. The popular Autopsy: The Last Hours series is a documentary show that features the murders of celebrities and the autopsies that follow. In Saturday's episode, Reelz viewers will hear commentary about the last days of Notorious B.I.G, aka Christopher Wallace, and the events that led up to his untimely demise. Some of the commentators may include family members, close celebrity friends, police officials, and crime experts.
The tragic death of Christopher Wallace, aka Biggie Smalls, captured the nation in March 1997. Authorities say the 'Juicy,' 380 pound gangsta rapper was shot dead as he sat in a parked SUV around 12:30 a.m., after leaving a club party at the Petersen Automotive Museum in Los Angeles. Notorious B.I.G had been in L.A. over the weekend to attend the Soul Train Music Awards. Several people in his entourage were with him at the time of the killing.
In the days after the murder, L.A. detectives scoured the streets to get some sort of leads on who may have killed the rapper. In a press conference, authorities stated that the murder of Biggie Smalls could have possibly been related to the death of Tupac Shakur—another black rapper who was gunned down in Las Vegas six months prior.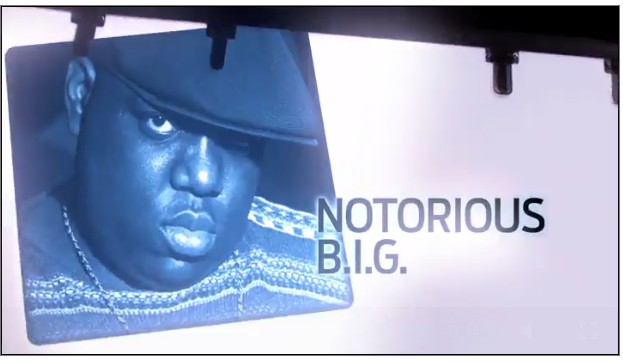 Notorious B.I.G.'s music hypnotized fans, leaving them crushed after he was gunned down in the fatal shooting. After his murder, some black Hollywood celebrities came out publicly to speak against the possible East Coast/West Coast connection and the deadly trail that it was leaving behind. Others believed that the FBI may have been involved. It was also rumored that the Bloods and Death Row Records could have had a direct connection to the killing.
Notorious B.I.G always knew what his dangerous lifestyle could lead to, and he expressed that in an interview with the LA Times just weeks before his death.
"
There's nothing that protects you from the inevitable. If it's going to happen, it's going to happen, no matter what you do,
" he said. "
It doesn't matter if you clean up your life and present yourself differently, what goes around comes around, man. It's crazy for me to even think… that a rapper can't get killed just because he raps. I'm stupid for even thinking that it couldn't.
"
He expressed similar thoughts in a 1994 article, according to the New York Times. "
I'm scared to death,
" he said in a 1994 interview in his mother's home in Brooklyn, where he had a pair of 9-millimeter guns under his mattress. "
Scared of getting my brains blown out.
"
With the Notorious B.I.G's autopsy in hand, Reelz' Dr. Hunter will use police records and information about Biggie's chaotic lifestyle to try to identify a motive and a possible new suspect in the unsolved cold case. In the trailer for the upcoming episode, Dr. Hunter reveals that Biggie was shot four times, indicating that he was the definite target, but that the murder looked like it was the work of an amateur.
Many viewers are looking forward to the show, but feel that nothing new will be revealed. Others still hold on to the hope that some overlooked piece of information just might break the case wide open.
To get an in-depth look back at the story that made headlines, watch
Autopsy: Notorious B.I.G
on
Reelz
this
Saturday, April 2nd, at 9 p.m. ET/PT
.
Check out the
Reelz Autopsy: Notorious BIG
episode promo below:
Source:
Inquisitr.com