The late great
Notorious B.I.G.'s
daughter,
T'yanna Wallace
, had Twitter in a tizzy after she denounced
Diddy's
upcoming Bad Boy Family Reunion (
B.I.G. Night out
) concert.
On Wednesday (April 6), the 23-year-old fashion designer jumped on her Twitter account to voice her opinion about the concert and claimed that she hasn't spoken to Diddy in years. In a series of tweets that have since been deleted (but screen captured by Complex), T'yanna goes in on the Diddster.
"This bad boy concert is for my dad's bday but I got NOT ONE TICKET. Just wanna point that out," she tweeted. "Haven't spoken to puff in years, I guess that's why I didn't get a ticket to concert." "Puff does nothing for my family. Tired of lying for his lame ass," she added. Ouch!
Hours later, T'yanna went on Twitter to inform the fans that she talked with Diddy and everything is cool. She tweeted: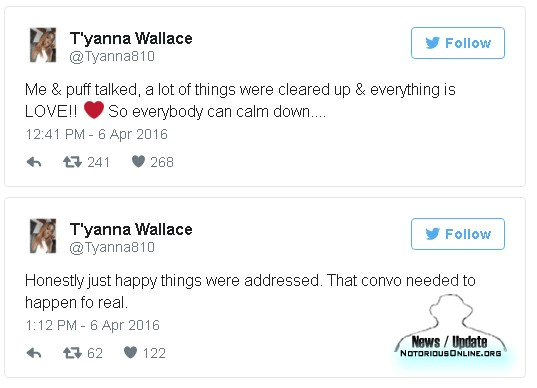 So it looks like T'yanna is supportive of the Bad Boy Family Reunion concert. The event is scheduled to take place at Biggie's hometown of Brooklyn, N.Y., at the Barclays Center on May 20, a day before the late rapper's birthday. Thankfully, this negative situation turn into something positive and it's all good. And if you don't know, now you know.
Source:
TheBoomBox.com