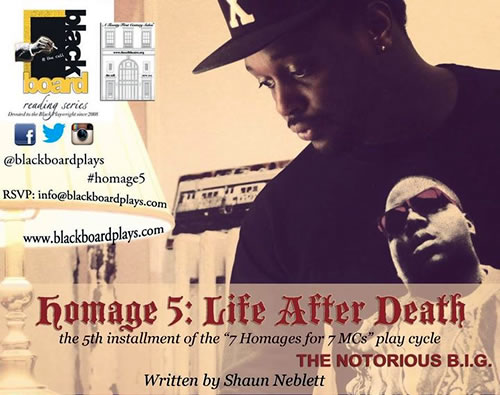 Playwright
Shaun Neblett
has a story to tell, and he's using a classic record from Brooklyn's Finest to help him tell it. On Wednesday afternoon at Schomburg Center for Research in Black Culture in Harlem (April 20), a sold-out crowd received a first glance at Homage 5: Life After Death, Neblett's new play inspired by the late great
Notorious B.I.G.'s
1997 seminal album of the same name. Though it wasn't a biographical play detailing the Brooklyn MC's life, Homage 5 follows a group of five black men in their 20s who run a barbershop owned by an older man, Freddie Bratcher, whom they believe may sell the business.
The result is a street-smart production that pays homage to Biggie's classic double-disc in both overt and subtle ways. Biggie's lyrics are integrated into the dialogue -- "There's rules to this shit," "Somebody got to die," and "Only make moves when your heart's in it/ Sky's the limit" -- a gang in the play is named the Notorious Thugs. One of the characters even tragically breaks one of Biggie's crucial "Ten Crack Commandments." Other inspiration is more subtle: a supernatural scene that plays on the title and the theme of male vulnerability, inspired by one of Biggie's more notable interviews.
"There's a clip where Biggie is talking about how he's scared that someone is going to end his life. When you look at this brother talking, he is scared," Neblett said in a panel discussion following the play. "But at the time, not a lot of people associated Biggie with being a very vulnerable person, because his messages were hypermasculinity, a masculinity that's probably not even realistic. When I saw that, I said I'm going to make this about vulnerability."
Neblett, 38, started writing plays in high school and won a national competition at age 19 to produce the off-Broadway production This Is About A Boy's Fears at the Public Theater. After graduating from New York University, he decided to write plays for black people ages 18 to 35 after seeing a lack of theater productions that catered to that audience.
The language of that demographic? Hip-hop. He decided to craft a series of seven plays inspired by classic rap albums for his "7 Homages for 7 MCs" series. The first one he wrote was inspired by Nas' 1994 debut Illmatic, and comes third in the series. 1988's The Great Adventures of Slick Rick from the eye-patch-wearing rhymer fueled the second play he wrote. Homage 5: Life After Death is the fifth in the series. The remaining four albums have not been selected yet.
Each play tributes the life of each hip-hop muse. The Illmatic play is short, just like the 10-track album, and tells the story about a young artist coming into his own. The play based on the Great Adventures of Slick Rick runs longer and is heavy on stories and monologues in the spirit of the Bronx lyricist's debut. Homage 5 is more rooted in connection, a theme Neblett discovered while having conversations with his inner-circle to write the play.
"One person said a thing about Biggie that's really powerful, which is that you can play a Biggie song and everybody somehow has a connection to it, said Neblett. "They're able to go some place else."
Wednesday's presentation was a workshop production of the play and its first time being presented to the public. Neblett said the plan is to bring back the play for a show in the summer and do revisions before doing a full rollout of the play in 2017, which marks the 20th anniversary of Life After Death.
Source:
Billboard.com