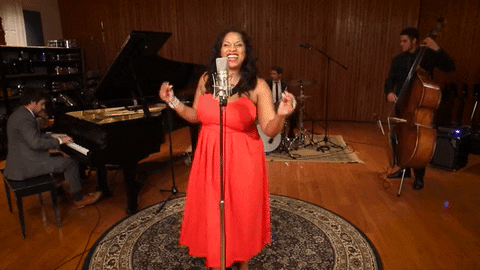 The Notorious B.I.G's classic 1994 song "Juicy" has been covered by several artists including rapper Akinyele and pop singer Halsey. But the late rhymer's anthemic song gets a jazzy reworking and it sounds amazing.
Retro jazz band Postmodern Jukebox teamed up with vocalist Maiya Sykes and remade Biggie's song into a bebop jam while maintaining the optimism of the original track.
"Biggie's 'Juicy' was one of the most iconic rap songs of the '90s, and even made its way to the rural town in New Jersey where I grew up, becoming a permanent fixture in my broken down car's cassette player," said the band's leader Scott Bradlee. "Maiya had already showed the powerful side of her voice in [previous] PMJ remakes…this cover really highlights her impeccable phrasing, agility, and creativity."
We have to agreed. Sykes is amazing on this cover. We also want to give her props for changing the original line "Blowing up like the World Trade" to "God bless the World Trade." Nice touch.
The viral video has garnered over 100,000 views so far on YouTube. Postmodern Jukebox is a band with a roster of singers who deliver a postmodern twist on some of your favorite pop, rock and rap songs. They have covered Drake's "Hotline Bling," Ginuwine's "Pony" and Gwen Stefani's "Hollaback Girl," among many others.
Watch Postmodern Jukebox's take on the Biggie classic below:
https://youtu.be/ZKAMdquezCk
Source:
TheBoomBox.com