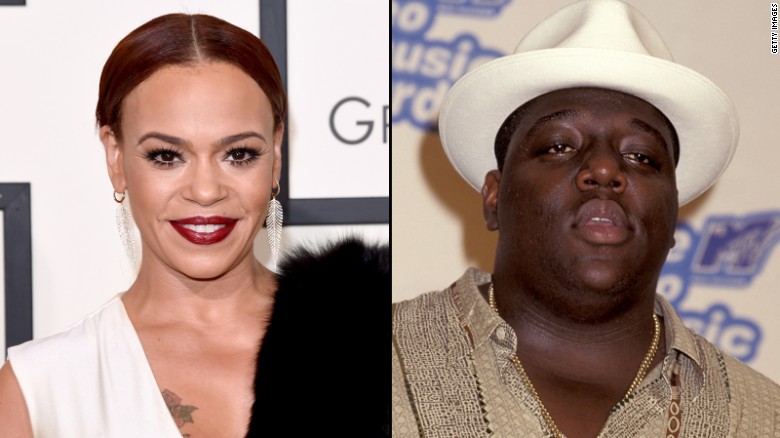 (CNN)Twenty years after the unsolved murder of rapper The Notorious B.I.G, his wife is releasing an album of duets with him.
R & B star Faith Evans announced on Friday that "The King & I" will be released on May 19, two days before what would have been the rapper's 45th birthday.
The Notorious B.I.G. -- also known as Biggie Smalls and born Christopher Wallace -- was gunned down in Los Angeles on March 9, 1997.
Evans and Wallace were still legally married but estranged at the time of his death.
The couple met on a photo shoot in 1994 and married nine days later.
Both were artists on the Bad Boy record label. Their romance was the hip hop version of Elizabeth Taylor and Richard Burton, complete with public accusations of infidelity and blow out fights.
But there was also the art. They worked together on one of the rapper's biggest hits, the remix of his single "One More Chance."
According to Evan's site, the album will contain 25 tracks featuring newly recorded vocals by Evans combined with the rapper's vocals.
The project will include both well-known songs and "a selection of rare and unheard rhymes from the B.I.G. vault. "
Guest artists will include Busta Rhymes, Jadakiss, Lil' Cease, Lil' Kim, Sheek Louch, Styles P, and Snoop Dogg.
"I remember telling Ms. Wallace [the rapper's mother] years ago that one day it would be really dope if I could do something similar to Natalie and Nat King Cole's Unforgettable," Evans said in a statement. "Knowing the love that B.I.G. had for Tyanna [his daughter] & Ceejay [his son by Evans], I feel it's my duty to uphold and extend his legacy, especially his musical contributions."
"This project is my creative reflection of the love we had and the bond we will always have," she added. "I'm elated to share this musical journey with our fans!"
Biggie's mother, Voletta Wallace, will also provide narration on some of the album's interludes.
Source:
CNN.com