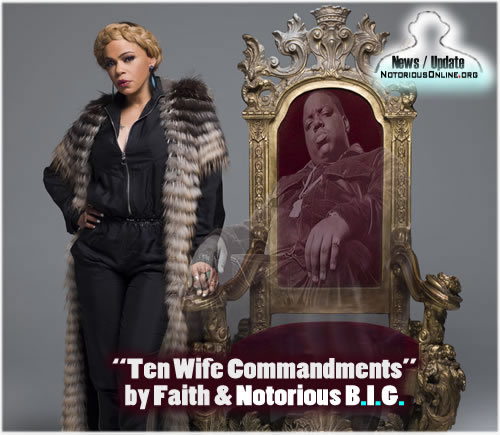 Faith Evans reworked the Notorious B.I.G.'s classic "Ten Crack Commandments" into a new song, "Ten Wife Commandments." The track will appear on the R&B star's upcoming duet album with her late husband, The King and I, out May 19th. "Ten Wife Commandments" tweaks the original "Ten Crack Commandments" beat and repurposes some of Biggie's lyrics, which Evans uses as a jumping off point. For instance, after Biggie's original, "Seven: This rule is so underrated," Evans croons, "Gotta keep your feelings and your money separated."
In a statement, Evans said "Ten Wife Commandments" was the first song she started when she began working on The King and I. "Excited and optimistic about the new deal and the opportunity to bring my idea to life, I started looking for Big's a capellas on YouTube while in Detroit rehearsing with my band. With 'Ten Crack Commandments' being one of the songs I had always wanted to redo, I found it and got to work! It took a few different sessions to get the commandments to be meaningful and clever, but I do feel these are points that both men and women can appreciate."
The King and I will feature both well-known and unheard Biggie verses, as well as guest appearances from Lil Kim, the Lox, Snoop Dogg and Busta Rhymes. Evans and Biggie's mom, Voletta Wallace, conceived the album more than 15 years ago, inspired by Natalie Cole's 1991 LP Unforgettable, which featured duets with her deceased father Nat.
"I didn't know how it was going to come together in terms of how I was going to approach it when we did get the chance to do it," Evans told Rolling Stone. "One day towards the end of recording, I was playing the album back for different people and I just felt a tap on my shoulder and I just started bawling like, 'I think he just told me he's proud.' I turned around like, 'Get it together.'"
Audio:
"Ten Wife Commandments"
Source:
Rollingstone.com