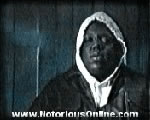 The
B.I.G. Interview section
is finally up with rare footage of Notorious B.I.G. speaking on certain topics. Some of you have seen these interviews in the past but a lot of the new visitors have never seen these. Maybe it will give you a better understanding of B.I.G. and appreciate what B.I.G was about. Very intimate footage.

Also added to the site, rare Bad Boy concert footage of Biggie performing his quintessential gem,
"Juicy"
. This performance took place back in '96, almost 10 years ago? How time has pasted…Anyways...to view this performance, log on to the
"video"
section of the site. More updates coming soon.