New York-born rapper Prodigy, who made up half of the iconic hip hop duo Mobb Deep, has died. He was 42. The artist, whose real name was Albert Johnson, was hospitalized several days ago in Las Vegas due to complications from sickle cell anemia.
"As most of his fans know, Prodigy battled the disease since birth," his rep said in a statement Tuesday. "The exact causes of death have yet to be determined."
Mobb Deep's Prodigy has died at 42. (MARK LENNIHAN/AP)
The Hempstead-born, Queens-bred rapper teamed up with fellow Queensbridge Houses resident Kejuan (Havoc) Muchita to form Mobb Deep in the early '90s. Known for their hardcore hip hop style, Prodigy and Havoc released their first album, "Juvenile Hell," in 1993.
They achieved mainstream success with their 1995 sophomore release, "The Infamous," widely considered to be among their greatest works. That album spawned the megahit "Shook Ones (Part II)," which is touted as one of the best hip hop songs of the 1990s.
Prodigy and Havoc enjoyed similar success a year later with their third album, "Hell on Earth." They were central figures in New York City rap during an illustrious era where legends like Nas and The Notorious B.I.G. rose to fame.
Known as a highly skilled lyricist, Prodigy was part of the West Coast-East Coast rap feud that helped define the genre during the 1990s. Prodigy's sickle cell anemia was infamously dissed by California rapper Tupac Shakur in several songs, including "Hit 'Em Up."
The latter part of Prodigy's career was interrupted by a 2007 prison stint. He was sentenced to 3.5 years on a gun possession charge and was released in early 2011.
Prodigy and Havoc returned to making music after his release and dropped their eighth and most recent album, "The Infamous Mobb Deep," in 2014. Prodigy also came out with a book called "Commissary Kitchen: My Infamous Prison Cookbook" about staying healthy while in jail last year.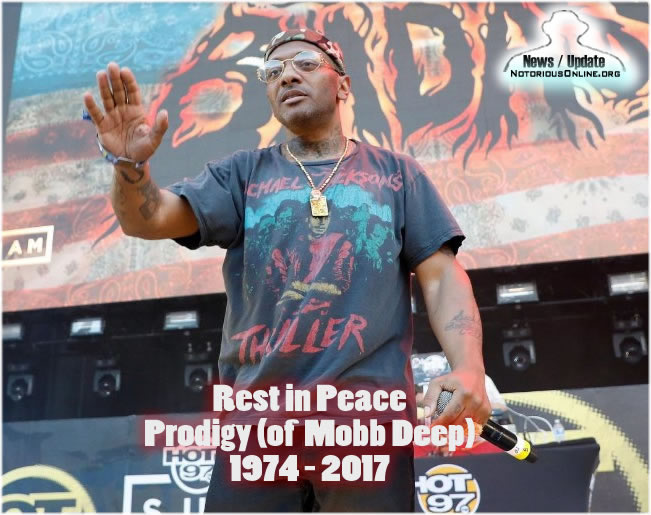 He performed at Hot 97's Summer Jam concert at MetLife Stadium in East Rutherford, N.J. on June 11. Mobb Deep had been scheduled to put on a concert in Newark on June 30.
Prodigy was in Las Vegas to perform as part of the Art of Rap tour, which also featured performances by Ghostface Killah, Ice-T and Onyx, among others.
The rapper's death was met with condolences from both fans and those within the rap community, with longtime collaborator Nas being the first one to share the news of his passing Tuesday.
"QB RIP King P. Prodigy 4 Ever," Nas captioned an Instagram photo of Prodigy.
Ghostface Killah, meanwhile, tweeted, "Rest In Paradise young Blood @PRODIGYMOBBDEEP can't believe you gone lord we was just chilling !! Hold ya head @mobbdeephavoc."
Source:
NYDailyNews.com