R&B singer Ashanti has dropped a shocker on the music world. This week, the crooner spoke out on nearly getting signed to Bad Boy Records. The New York native went to Instagram Monday (July 10) to break the big revelation.
Ashanti's rise to fame may have seen like a quick one, but there's a lot more to it behind the scenes. The 36-year-old singer recently shared the story about how she actually met with Sean "Diddy" Combs and
The Notorious B.I.G.
before she ever landed her deal with Murder Inc. Most people would assume that she went straight to the top after her single "Foolish" took off, but before that she was singing for Biggie and company at the young age of 13.
Ashanti had a pretty interesting rise to fame, and it's definitely overlooked. Her journey was spectacular, and she had some interesting choices to make along the way. The singer from Long Island had already been performing and recording for over 10 years when she was the first female to ever be featured on the Billboard Hot 100 with two top songs.
She held that title when Ja Rule's "Always on Time" and Fat Joe's "What's Luv?" were banging on everyone's radio. She accomplished all this before she even dropped her own debut single.
Over the past weekend, Ashanti sat down and took some time to look back on her career and how it started, and she made sure to shoutout Diddy on her Instagram.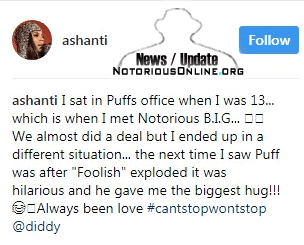 "I sat in Puff's office when I was 13… which is when I met
Notorious B.I.G
… We almost did a deal but I ended up in a different situation… the next time I saw Puff was after 'Foolish' exploded it was hilarious and he gave me the biggest hug!! Always been love," she wrote.
The head honcho of Bad Boy Records was the man responsible for discovering her talent back when she was just a child; she apparently sang some Mary J. Blige songs for Diddy and Biggie in the studio back in the day.
Source:
Sohh.com