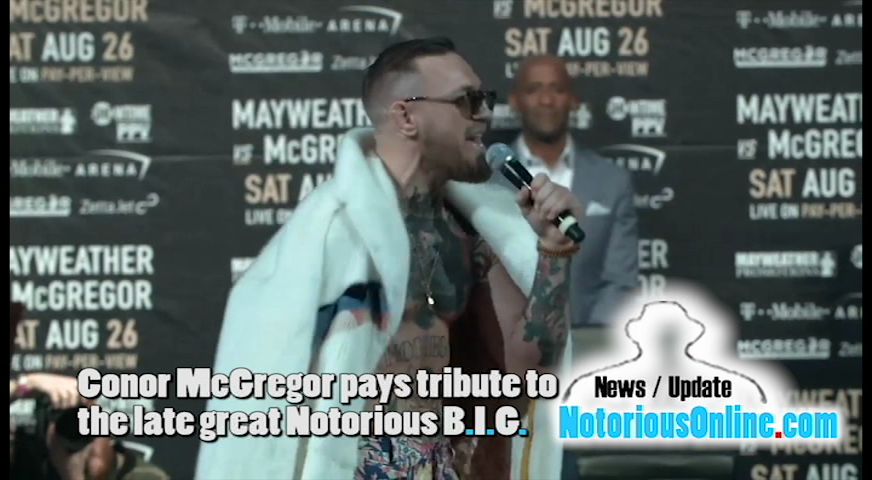 The upcoming boxing match between undefeated retiree Floyd Mayweather and MMA fighter Conor McGregor isn't for another month, but it's already a bit of a circus. Ahead of the August 26th bout, the pair have been traveling North America for showboating press conferences held in grand venues. Last night, they were at Brooklyn's Barclays Center, and McGregor had a little gift for his opponent.
Dressed in a "polar bear" coat with a dragon on the back, McGregor handed Mayweather a copy of JAY-Z's 4:44. For some reason, he did it while also calling out 50 Cent: "You and 50 are two fake money bitches. He's bankrupt and you're about to be."
"[This is] JAY-Z's new album, The 4:44," he said, adding an unnecessary article. "
I want you to take this and listen to it and learn. Learn how to build and maintain a real empire, not a fake empire. And when you're done with it, send it off to 50. And when you do, tell him Blanco sent you
," he said, taking a swipe at Mayweather's hat.
"
Blanco
" is actually another hip-hop reference, as that's a line from
The Notorious B.I.G.'s
"
Niggas Bleed
".
This might all seem pretty random — and don't get us wrong, it is — but there is some logic behind it all. Mayweather and 50 are buddies, JAY-Z is New York royalty and they were in Brooklyn, and McGregor's nickname is The Notorious. Even so, what all this has to do with a gimmicky boxing match is beyond me. Watch the (clearly staged) incident above.
Shortly after getting on stage, Conor McGregor took to the microphone where he paid homage to the late great
Notorious B.I.G
. Watch the video video:
Source:
bjpenn.com