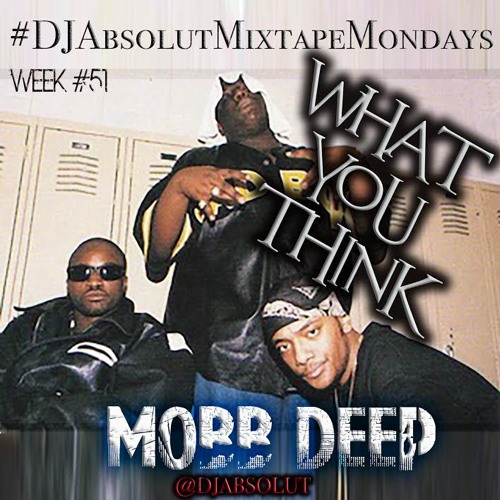 Since the death of Prodigy (Rest In Peace
P
) back in June, there has been a plethora of rare
Mobb Deep
tracks that have surfaced in honor of the late Queensbridge legend. On Monday (July 24), as part of his #MixtapeMondays series, DJ Absolut released a previously unheard song from the rap duo, featuring a sample from the late great
Notorious B.I.G.
The gritty track "
What You Think
" features Havoc and Prodigy rapping nihilistic bars over dooming pianos, stirring violins and ominous keyboards. The song also samples Biggie's vocals from his classic 1994 song, "Warning."
Havoc kicks it off with a verse about being paranoid. "
My phone is ringing the number looks strange / This is the third time I had to have my number change / I feel like the Geto Boys – Mind Playin' Tricks," he raps, adding, "She said she had a man, probably him, f—in' bitch / Or is it them n—-s I got beef with / Pussy-ass n—-s when I pull the gat they are goin' plead the fifth / What do you think the guns are for.
"
Prodigy follows with his violent bars warning haters not to approach or they will get touched. "
We are the bosses / You watch us from over there / While we over shine you n—-s and do how we feel / We can stomp through your hood plus not get touched / 'Cause we'll f— your moms plus clap your little ones,
" he spits.
Yikes! They should call this song "Shook Ones" Part III." We're just saying.
Some of the previous unearthed Mobb Deep songs include the DJ Premier-produced "Cop Hell" and "Try My Hand," which was produced by The Alchemist. Both of these veteran producers have worked extensively with the M-O-B-B members.
Check out the track song below:
Mobb Deep Track 'What You Think' Ft Notorious B.I.G.
http://instromusic.net/mp3/Blackjack
ft. Notorious B.I.G. and Snakes - Young Gs Perspective (instrumental).mp3
Source:
TheBoomBox.com