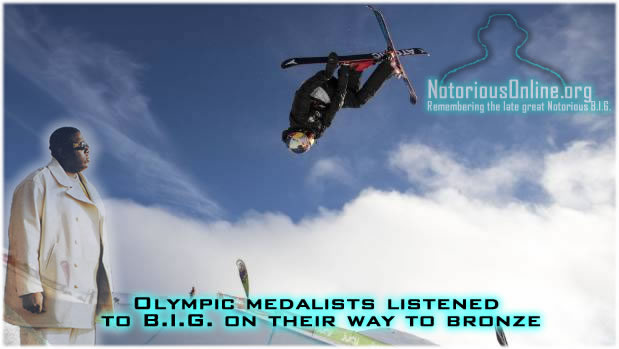 What do Lorde and The
Notorious B.I.G
. have in common? They were the soundtrack to New Zealand's Winter Olympic success. For Zoi Sadowski Synnott, New Zealand's first Winter Olympics medallist in 26 years when she claimed bronze in the snowboard big air in PyeongChang, it was Lorde who got her ready to compete.
While she didn't listen to music during the run itself, which is understandable given the heights she was soaring at and the concentration required, Lorde helped her warm up.
She was one of many Winter Olympians to have their headphones plugged in as they attacked the slopes in PyeongChang.
​You could see the athletes bobbing their heads before they started their runs, timing flips, spins, grabs and rail slides to the music beating in their ears. The Kiwi athletes were no different, and they had an interesting variety of artists on their playlists for their biggest events.
Only an hour or two after Sadowski Synnott's exploits, Nico Porteous put in the performance of his life to win bronze in the ski halfpipe, and you could see him bouncing before his run as music played in his ears.
(The Notorious B.I.G was playing for Nico Porteous during his bronze medal winning run.) It was The Notorious B.I.G blasting in his headphones as he made his bronze winning run of 94.80 in the final, briefly taking a lead in the competition.
For his final run, Porteous' headphones had slipped out. That was probably a sign that he wasn't planning anything special with his third attempt, as he glided down accepting that his previous effort was the run of his life. Biggie wasn't needed.
When he wasn't listening to Biggie, Porteous listened to uplifting songs to get him gee'd up. Carlos Garcia Knight listened to a variety of artists while competing, including the Rolling Stones. While he didn't quite paint the podium black in PyeongChang, Garcia Knight also listened to British alt-rock band Wolf Alice and Australian psychedelic rock band Tame Impala.
To compare, American star Chloe Kim was said to be listening to Migos during her gold medal winning run in the snowboard halfpipe earlier in the Games. She's also known to listen to Lady Gaga, Britney Spears and Lana Del Rey while competing.
Source:
Stuff.co.nz