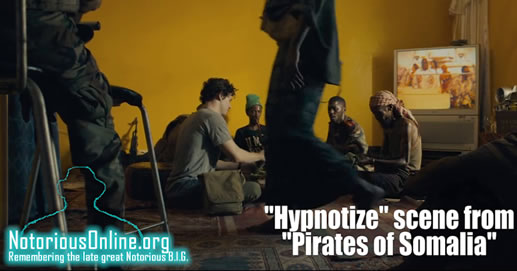 The movie "Pirates of Somali" is based on a true story. In 2008, rookie journalist Jay Bahadur forms a half-baked plan to embed himself among the pirates of Somalia. He ultimately succeeds in providing the first close-up look into who these men are, how they live, and the forces that drive them. The late great Notorious B.I.G.'s music is featured and shows an inspired animation during the Khat (plant) chewing scene.
Khat (Catha edulis Forsk.), known in Somalia as "qaad" or "jaad", is a plant whose leaves and stem tips are chewed for their stimulating effect. Khat chewing started at different times in different parts of Somalia. Since World War II, the prevalence of the practice has continuously increased and no social group is excluded. The consumers get a feeling of well-being, mental alertness and excitement. The after effects are usually insomnia, numbness and lack of concentration.
This is where the late great Notorious B.I.G.'s "Hypnotize" video is heard playing on the T.V. as the pirates are explaining how they implement their modern date hijackings. The reporter begins to hallucinate with the soundtrack playing in his head to a hypnotic animation which blends the actual Hypnotize Boat scene and ends in a charitable modern day robin hood theme which plays out in the middle east.
Check out the video below: