During this years Summer Jam, Game took another stab at 50, asking the audience if they missed the "
real
" King of New York,
Biggie Smalls
.
"G-g-g-g-u-not!!!!" The Game sneered throughout his set, as he appeared at Giants Stadium, which is actually in New Jersey, decked out in a matching Mets fitted cap and baseball jersey.
"I ain't no solider and I don't follow suit like Yayo and Lloyd Banks," he continued to a mixed reaction of boos and cheers. [Click here to see some of the pictures from The Game and Hot 97's 2005 Summer Jam. ]
Performing selections from his multi-platinum album The Documentary, including "How We Do" and "Dreams," The Game made sure to rework lyrics on the tracks in order to avoid celebrating his one-time affiliation with the Gorilla Unit, 50's collective featuring Lloyd Banks, Tony Yayo, and Young Buck.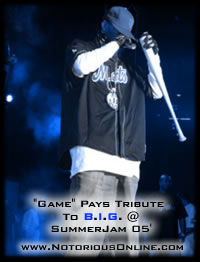 "Enough of that n***a, now listen to Game," he rapped over 50's verse on the duo's hit collaboration, "Hate It or Love It."
But the insults weren't left solely to songs. A mascot resembling a rat appeared on stage wearing a G-Unit tank top, to which Game remarked: "My n***a 50 Cent," before beating down the rodent and declaring: "I ran out the rat hole and got my cheese."
The Game also challenged Banks and Yayo as he told the sun-sweltered audience he would knock the Queens rappers out, only if, he asserted, Yayo would come out the house, making light of his court-mandated house arrest.
Game took another stab at 50, asking the audience if they missed the "real" King of New York, Biggie Smalls.
The rapper then punctuated his scathing set when he snidely commented on 50's relocation to Connecticut and later tossed his G-Unit necklace into the crowd.
"F**k this chain," he yelled as he sent his pendant airborne.
If The Game's performance was about exiting on bad terms, then Jay-Z's surprise act was an ode to leaving when the going is good.
Kanye West and his conscious crew of emcees, Common and Talib Kweli, performed a medley of hits from West's debut and Com's recent album, Be. But after West ran through his latest, "Diamonds," which celebrates the Roc reign, the Def Jam president and Roc-A-Fella CEO stepped forth to rouse the mostly doormat audience. Though he only performed The Black Album's "P.S.A." and "Encore," Jay received a thunderous applause from the tough crowd.
source:
http://www.allhiphop.com/hiphopnews/?ID=4469