Late night show host Stephen Colbert hit the gym with Supreme Court Justice Ruth Bader Ginsburg to trial her challenging workout routine. Colbert met with the Justice, 85, at the gym of the Watergate Hotel in Washington DC, to find out how she stays so fit. Right before the work out, Colbert questioned the justice supreme on her
B.I.G.
connection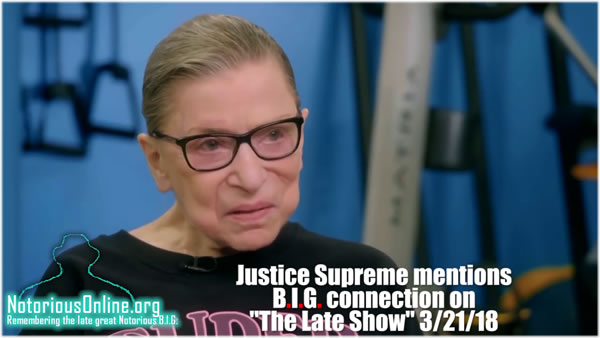 The hilarious clip begins with Colbert asking how he should address the oldest Justice on the Supreme Court. '
Now you're the notorious RBG
,' Colbert says referring to her popular moniker.
With a smile she replies '
it copies the Notorious B.I.G., a famous rapper
'.
'
And people ask what do you have in common with the Notorious B.I.G. and I say we have one thing clear in common and that is we were both born and bred in Brooklyn, New York,
' she adds.
Decked his staple white button down shirt, black tie, and gym shorts, Colbert hit the gym floor and plays a song to get into the mood.
Check out the video "
B.I.G. mentioned on "The Late Show
" below: